Morsi speaks to his family by phone for first time from undisclosed location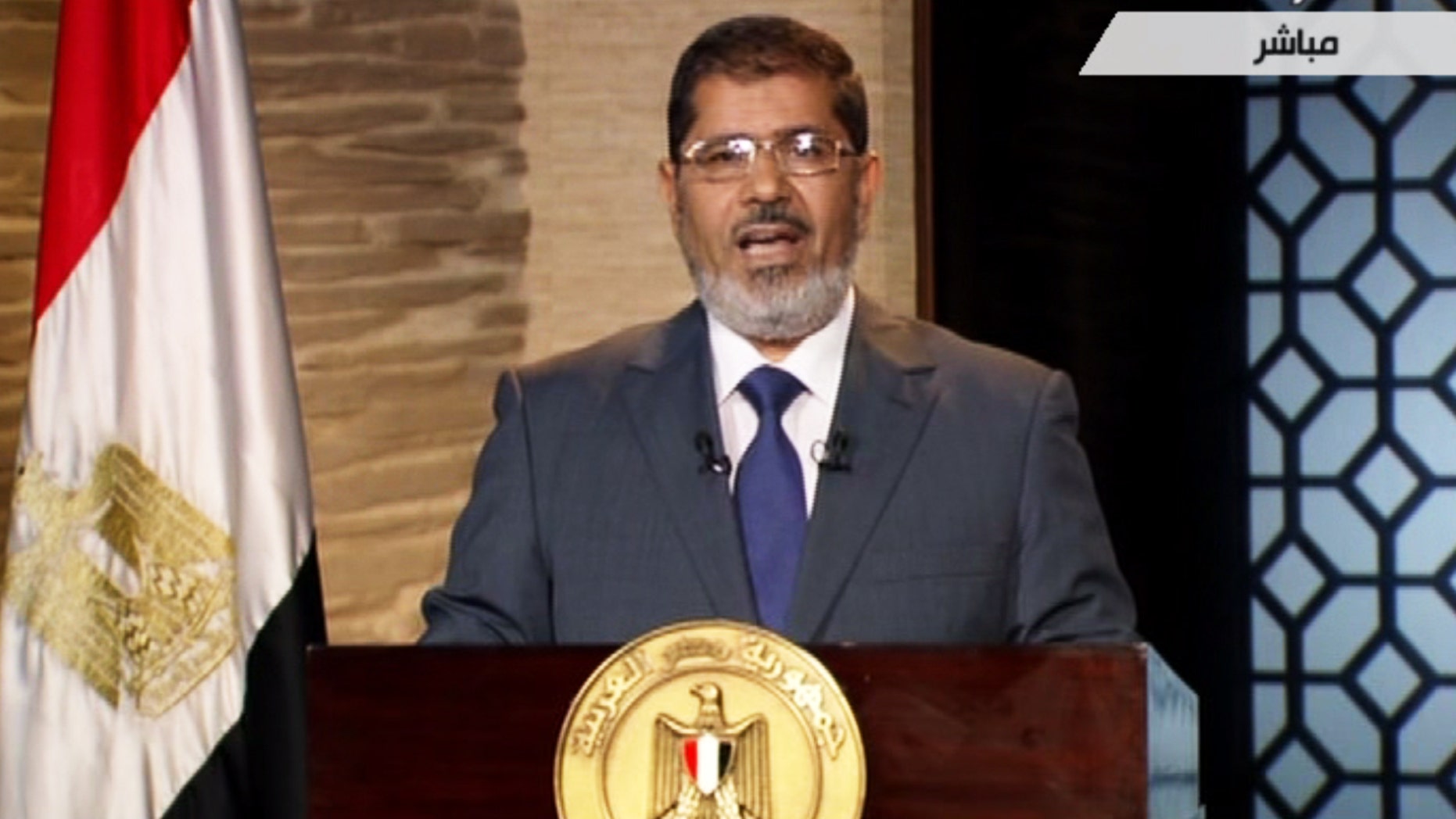 CAIRO – Egypt's ousted president, Mohammed Morsi, told his wife and children he is in good health in his first conversation with his family since the military removed him from office and detained him in a secret location more than two months ago, one of his lawyers said Wednesday.
The phone calls were an apparent gesture by the military as authorities prepare to put Morsi on trial on charges of inciting the killing of protesters during his year in office -- though no date for the trial has been set. Morsi's legal team has so far not been able to talk to him, said the lawyer, Mostafa Atteyah.
The trial of Egypt's first freely elected president is one link in a wide-scale crackdown on his Muslim Brotherhood that has eviscerated its leadership and much of its crucial mid-level organizers. More than 2,000 jailed Brotherhood members are facing potential prosecution in multiple cases, with at least half a dozen cases already referred to trial.
Members of the Brotherhood's legal team say the process so far has been confused and opaque, with their lawyers given little access to their clients or knowledge of the cases against them. Atteyah said they have not been able to attend Morsi's questioning and have not been shown the prosecutors' final case referring Morsi to trial.
The Islamist leader has been held almost completely incommunicado in an undisclosed facility since the head of the military ousted him on July 3 in the wake of mass nationwide protests against him.
Since then, the Brotherhood, which dominated power during his year in office, has been reeling under the crackdown.
At least seven of the 18 members of the Brotherhood's top executive body, the Guidance Bureau, have been arrested. The most recent were two detained along with the group's English-language spokesman in a raid Tuesday. Among those held for weeks is the Brotherhood's top leader Mohammed Badie, whose trial on incitement charges is the only one to have begun so far.
Nearly 1,500 mid-level administrators are in custody -- about 60 percent of the regional managers who do much of the Brotherhood's nationwide organizing, Atteyah said.
Also arrested are most of the Brotherhood members who served as provincial governors or lawmakers during Morsi's year in office. The crackdown even netted 56 people on the legal team formed to defend Morsi and other group members, said Atteyah, one of 24 people left on the team.
The rest of the group's leaders are in hiding, with the remaining members of the Guidance Bureau managing the group while on the run, said one Brotherhood member, who spoke on condition of anonymity for security reasons.
The Brotherhood and Morsi's other supporters continue near daily protests demanding his reinstatement. But their protests have been smaller since security forces violently broke up their main sit-ins in mid-August, sparking days of violence that left over a 1,000 dead, mostly Morsi supporters.
Authorities accuse the Brotherhood and allies of seeking to undermine the new order through a wave of violence since the anti-Morsi protests began on June 30 -- when his supporters repeatedly clashed with opponents -- and after the president's ouster, when there was a backlash of Islamist attacks on government offices, security personnel and churches.
Authorities say the group stockpiled weapons and supported the attacks. Most of those arrested have been on allegations of inciting violence. The Brotherhood insists its protests against the coup are peaceful.
Morsi, who turned 62 last month in detention, was allowed to speak by phone with his wife and children last week and a second time two days later, Atteyah said. The lawyer said he reassured his wife he is in good health. Morsi also spoke at length with his son Osama, the Brotherhood member said.
"I will remain steadfast to the last breath," Morsi told his family, according to the Turkish news agency Anadolu, which first reported the calls. Morsi did not seem to know where he was being held, the report said. Atteyah confirmed the Anadolu report.
The only visitors Morsi is known to have seen were EU foreign policy chief Catherine Ashton and an African Union delegation. A delegation of Egyptian rights groups was also permitted to see him, but he declined.
Morsi and more than a dozen co-defendants are to be tried for incitement over deadly violence at a massive anti-Morsi rally outside his palace in December.
Prosecutors are exploring two other possible cases against Morsi. One concerns accusations he insulted judges when, during a presidential speech, he accused specific judges of helping rig elections under his ousted predecessor Hosni Mubarak. Another case concerns allegations he colluded with Hamas to carry out attacks on prisons during the 2011 anti-Mubarak uprising that broke free Morsi and other Brotherhood leaders.
Most of the planned trials of Brotherhood members so far involve charges of incitement of violence since June 30.
But members of the legal team say they have not been given documents for the cases, leaving them in the dark about the exact charges, the evidence or even sometimes the full list of defendants. Atteyah said he has conflicting reports whether Badie has been listed as a co-defendant in Morsi's trial.
"The law is not applied in most of the cases," Atteyah said. "Anyone in Egypt can now potentially find themselves accused of a crime. It is only a question of when."
The trial of Badie, his deputy and four other Brotherhood members held a brief opening session last month and is to resume at the end of October. They are accused of inciting violence that left nine killed outside the group's headquarters in June.
Atteyah said he sat in four times on prosecutors' questioning of Badie. "He is in good spirits, and also in good health," he said -- though he was shoved around during his arrest, breaking his dentures and glasses.