Morocco's foreign minister warns Iran is seeking foothold in North Africa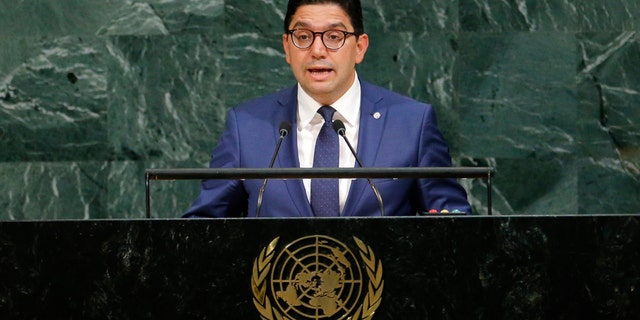 NEWYou can now listen to Fox News articles!
During Secretary of State Mike Pompeo's first major policy speech on Iran Monday, he warned Tehran that the U.S. would work closely with regional allies to deter its meddling.
One country that has recently experienced such Iranian interference is Morocco, and Nasser Bourita the minister for foreign affairs, spoke to Fox News about the problem last week.
Bourita said that his country's intelligence service discovered that Iranian proxy Hezbollah was supplying the Polisario Front rebel group with arms. The Polisario has been fighting Morocco for independence since Spain left the Western Sahara in the 70s. Morocco annexed the Western Sahara during that time and the Polisario Front launched a bloody guerilla war before both sides agreed upon a UN-brokered truce in 1991. That truce has largely held in place.
Bourita said Morocco witnessed a change last year following the arrest of a Hezbollah financier. He described the moneyman as, "being at the heart of the financing system of Hezbollah in Africa in laundering money." He said Hezbollah threatened Morocco to release him. But, he said, "we gave him to the United States and from that date there was a change."
That change, he said, "now threatens our own security."
"In April this year a new level was reached - which is providing military equipment," he said. He said that included the SAM-11, SAM-9 and Strela surface to air missile system.
Bourita cited newly released evidence showing recent visits of senior Hezbollah leaders meetings with senior Polisario military leaders, including the men responsible for Hezbollah's external relations for military training and logistics.
Bourita seemed to confirm reports that the Iranian embassy in Algeria was used to fund the Polisario. He said the embassy's cultural attaché; Amir Mousavi, is believed to be the person running the operation. He said it's "our understanding that he's more powerful than the ambassador himself and his connection(s) are the strategic advisors to the Supreme Guide to the Islamic Republic of Iran."
He warned that such interference is unlikely to stop.
"I think it is clear that the interference of Iran in the internal affairs of the Arab and Muslim countries won't stop in (the) Middle-East and in the Gulf Countries," he said. The Iranians, he said, are in part trying to destabilize the area due to Morocco's good relations with the U.S. and Europe.
"Morocco is known to be a moderate country, a country that uses soft power in Africa and in the Arab world and I think that is one of the elements which is disturbing Iran," he said.
Bourita said the new evidence coincided with recent threats by the Polisario, "to establish some military presence east of the Moroccan Sahara defense system."
Benny Avni a foreign affairs analyst and columnist for the New York Post who has written about the issue, said the Polisario was nurtured by the Soviet Union at the height of the Cold War as part of a global attempt to undermine U.S. allies.
"Then it was abandoned by its supporters, except for Algeria," he said. "In comes Iran, which would export the Islamic revolution everywhere there is mayhem. In the Polisario, Tehran saw an opportunity, so it stepped in."
Behnam Ben Taleblu a senior Iran analyst at the Foundation for Defense of Democracies, or FDD, in Washington D.C, told Fox News that although Tehran has not articulated a specific policy vision for North Africa, relations remained strained.
"Historically, under the Islamic Republic, Iran and Morocco's relationship has been turbulent, experiencing periods of friendship and enmity," Taleblu said. "That being said, Morocco's close ties to Saudi Arabia earn it deep suspicion in Iran's eyes given the escalating Saudi-Iranian cold-war in the Middle East."
He said it remains to be seen if "such activities constitute a one-off by Iran and its Lebanese proxy or search for a strategic foothold in North Africa."
"The Islamic Republic," he said, "has a history of co-opting local conflicts to make them spiral out of control."
According to the Associated Press, while Iran has denied the charges against it, Hezbollah said that Morocco was being pressured by the United States, Saudi Arabia, and Israel to act. Bourita made clear that his country's decision was taken for national security reasons and not outside pressure.
"Our position," he said, "was based on our own assessments, (our) own intelligence and with regard to our national security. So it was purely a bilateral decision."