Montenegro set to approve NATO membership in historic move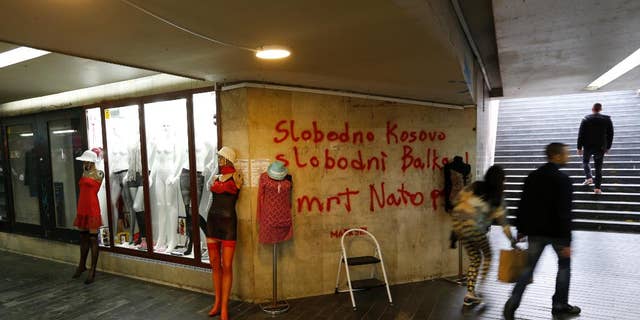 NEWYou can now listen to Fox News articles!
PODGORICA, Montenegro – Montenegro is set to formally approve becoming a member of NATO on Friday, a move seen as historic for the Balkan country long considered a traditional Russian ally in the turbulent region.
Montenegro, like the rest of the Balkans, has been caught in a battle of influence between the West and Russia. Montenegrin government officials argue that joining NATO will bring stability and economic benefits after centuries of turmoil.
"The decision is historic because it changes completely the foreign policy context in which Montenegro has existed," historian Boban Batricevic said. "It will be viewed as the start of a new era for our nation."
Russia has been angered by NATO expansion in its zone of interest. Montenegro says Russia was behind a foiled election-day coup in October allegedly designed to avert the NATO path.
Both Russia and pro-Russian opposition in Montenegro have evoked the NATO bombing of Yugoslavia in 1999 — made up of Serbia and Montenegro at the time — over Kosovo as a reason to stay out of the alliance.
Although its army is small, with only 2,000 troops, Montenegro is important for NATO because it will provide the remaining access to the Adriatic Sea.
WHEN IS THE PARLIAMENTARY VOTE?
Montenegrin lawmakers will vote on the accession protocol on Friday. No surprises are expected, as the ruling pro-NATO coalition holds a majority of seats. Pro-Russian opposition will boycott the session but plan protests outside the parliament building. The opposition says the parliamentary approval will be illegal and have insisted on a referendum instead.
WHY IS MONTENEGRO IMPORTANT FOR NATO?
Montenegro's small military won't contribute much. But the country is strategically positioned to give NATO full control over the Adriatic Sea — other Adriatic nations Albania, Croatia and Italy are already in the alliance. This is something Russia has tried to achieve in the past as it sought to gain access to the so-called "warm seas" in the Adriatic. Backing Montenegro also sends a message to Russia that the U.S. and its allies will push back against Russian efforts to increase its influence in Europe. Russia has been looking to boost its interference in the Balkans, primarily with its only remaining ally Serbia, and in Serb-held areas of Bosnia and Kosovo.
WHAT DOES MOSCOW SAY?
Moscow has described Montenegro's joining NATO as "profoundly erroneous" and against the interests of the nation. Russia has said the move will mean worsening stability for the Balkans and the rest of Europe. Russia has been accused by Montenegro of sending operatives to try and orchestrate the foiled coup in October, including plans to kill then-prime minister Milo Djukanovic and take over power. Moscow has denied this, but it has actively supported the anti-NATO opposition and backed calls for a referendum on NATO ties.
WHY IS NATO MEMBERSHIP SEEN AS HISTORIC FOR MONTENEGRO?
Montenegro is a small country of some 620,000 people, squeezed between the Adriatic Sea and towering mountains to the north. It has been historically divided between pursuing pro-Western policies and sticking to an alliance with Orthodox Christian allies Serbia and Russia. Montenegro's longtime leader Djukanovic has taken a decisive turn toward the West after regaining independence for Montenegro from Serbia in 2006. Djukanovic is adamant that siding with the West over Russia will bring stability and shield Montenegro from becoming a victim of global power games in the Balkans.
WILL MONTENEGRO BECOME A NATO MEMBER IMMEDIATELY AFTER THE VOTE?
Not automatically. It could take a few more months. Montenegro was first invited to join in December 2015, and it formally becomes a member once parliaments of all 28 member states and Montenegro itself have ratified the accession protocol. Most countries have done so in recent months, including the United States. The U.S. Senate gave crucial backing to Montenegro's accession last month and President Donald Trump signed the ratification.