Moments that led to S. Korea's historic presidential vote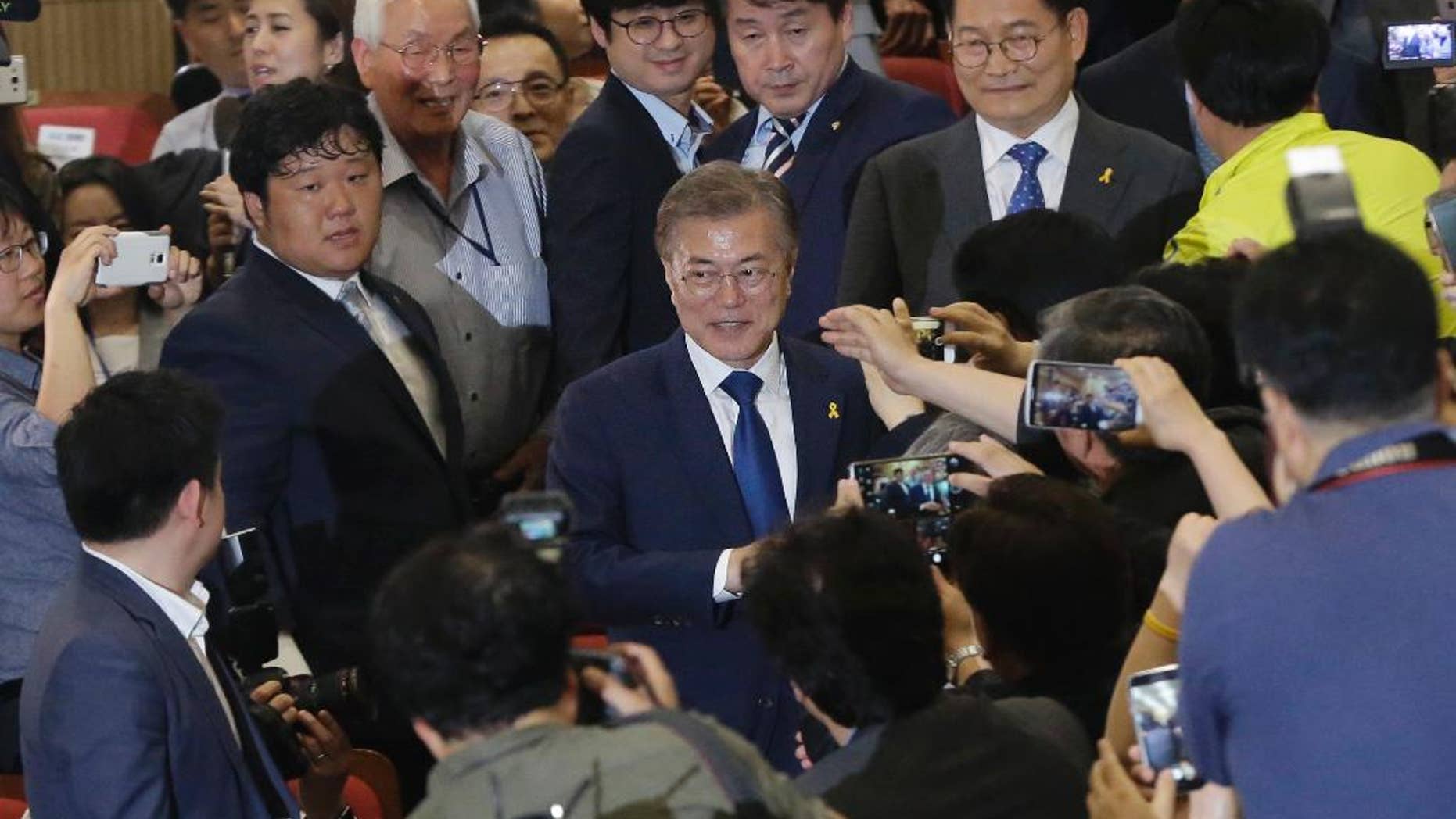 SEOUL, South Korea – South Koreans have elected Moon Jae-in as their new leader in the nation's first-ever presidential by-election, according to an exit poll, in the culmination of months of political developments that led to the downfall of his predecessor.
A look at key moments in the demise of former President Park Geun-hye, who now sits in jail awaiting trial on corruption charges, and the rise of South Korea's first liberal government in nearly a decade:
___
Oct. 24, 2016: A TV station reports that Park's longtime friend Choi Soon-sil, who has no official government role, received classified government information such as advance drafts of presidential speeches.
Oct. 25: Park publicly acknowledges her close ties with Choi, and says Choi helped her with speeches and public relations issues during her 2012 presidential campaign and after her 2013 inauguration.
Oct. 27: State prosecutors launch a special investigation team to look into the scandal.
Oct. 29: The first in what will become a series of large anti-Park rallies is held in Seoul.
Nov. 20: State prosecutors indict Choi and two former Park aides on accusations they bullied companies into giving tens of millions of dollars to foundations and businesses Choi controlled. Prosecutors also say they believe the president was involved in the activities and enabled Choi to interfere with state affairs.
Dec. 3: Opposition lawmakers led by Moon's Democratic Party formally launch an attempt to impeach Park, setting up a floor vote. Millions demonstrate across the nation calling for Park's ouster.
Dec. 9: Lawmakers overwhelmingly vote to impeach Park, setting the stage for an impeachment trial in the Constitutional Court.
Jan. 1, 2017: In a surprise New Year's meeting with reporters, Park accuses her opponents of framing her.
Jan. 5: The Constitutional Court begins hearing arguments in Park's trial. One of Park's lawyers compares her impeachment to the "unjust" deaths of Jesus Christ and ancient Greek thinker Socrates.
Feb. 17: Prosecutors arrest Lee Jae-yong, the billionaire scion of Samsung, South Korea's largest business group, on suspicion he bribed Park and Choi in exchange for business favors.
March 10: The Constitutional Court votes unanimously to remove Park from office, triggering a two-month presidential campaign.
April 3: Moon, who lost to Park in the 2012 presidential election, is nominated as the Democratic Party's candidate.
May 9: Moon claims victory in the presidential election after an exit poll predicts his win and his two major rivals concede defeat.