Mob slaughters hundreds of crocodiles after man killed entering breeding pond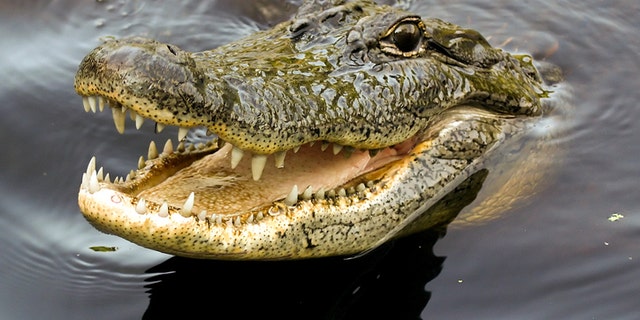 A mob of Indonesian villagers slaughtered nearly 300 crocodiles at a sanctuary for animals in retaliation for the killing of a local man by a croc there.
Basar Manullang, the head of the local Natural Resources and Conservation Agency, said Monday that 292 crocodiles were killed by dozens of villagers in Indonesia's West Papua province on Saturday.
The slaughter came after the funeral of a 48-year-old villager who was killed Friday after entering the sanctuary's breeding pond.
WARNING: GRAPHIC IMAGE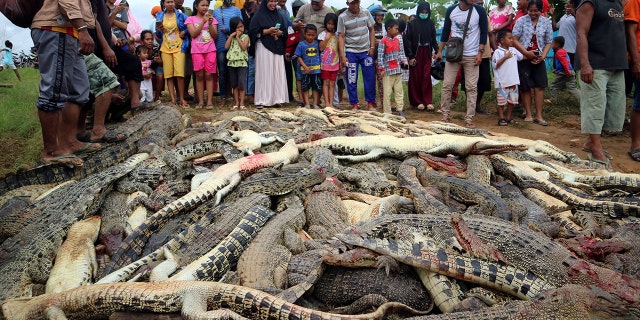 FISH PEDICURE CAUSES WOMAN TO LOSE HER TOENAILS, REPORT SAYS
The reason the man entered the pond wasn't immediately clear, with some reports saying he was gathering vegetables while others suggested he may have entered to cut grass for his cattle.
"An employee heard someone screaming for help, quickly went there and saw a crocodile attacking someone," Manullang told the BBC.
After the man's funeral, dozens of angry villagers marched on the sanctuary, armed with knives, shovels, hammers and clubs. Police said they were unable to stop the attack and may press charges against the throng of vengeance-seekers.
'PSYCHIC' OCTOPUS THAT PREDICTED JAPAN'S WORLD CUP RESULTS KILLED
The sanctuary is licensed to breed protected saltwater and New Guinea crocodiles both for preservation purposes and to harvest some of the animals, the BBC reported.
The killing of a protected species is a crime that carries a fine or imprisonment in Indonesia.
Police are encouraging mediation between the victim's family and Mitra Lestari Abadi, the company that operates the sanctuary.
The Associated Press contributed to this report.