Mexico Starts Money Laundering File In Move Similar To U.S.'s 'Kingpin' List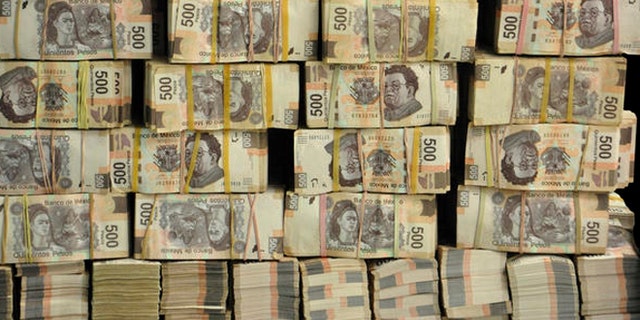 MEXICO CITY – Implemented some 15 years ago, the Foreign Narcotics Kingpin Designation Act is used by the Department of Treasury to put freezes on investments in the U.S. by drug cartel members and those they do business with.
Inspired by its success, the Mexican government announced plans to fight money laundering by using its own "kingpin list" although unlike the public U.S. list, Mexico will make its registry confidential.
Alberto Elias Beltrán, the official in charge of implementing a new money laundering law at the Finance Department, said the list will be made available only to authorities, anyone accused of money laundering and financial institutions.
"There could be a person who follows the procedure to be excluded from the list and we don't want them to affect their reputation by making this list public," Elias Beltrán said.
The criteria that will be used to put a person or a business on the list hasn't yet been determined but the government hopes the first list will be ready by the end of April, he said.
Elias Beltrán added that the list will be immediately sent to financial institutions that will have to "immediately suspend any operation or service being provided to those added to the list."
The law mainly bans those on the list from using Mexico's financial system, including using current bank accounts or opening new ones, but it doesn't currently provide for criminal charges against anyone, he said.
Finance Secretary Luís Videgaray said recent changes to Mexico's financial laws now allow officials to prohibit bank and brokerage transactions without the need for a prior court ruling convicting an individual or allowing the seizure of a company.
Mexico has long been criticized because businesses designated by the U.S. Treasury Department as laundering conduits for drug cartels often continue to operate in Mexico.
Mexican officials had previously complained the U.S. lists didn't include enough evidence to persuade Mexico's courts to shut down companies, and many of the people named in the U.S. actions have denied any role in money laundering.
Elias Beltrán said those who appear on U.S. lists won't automatically be added to Mexico's registry but will be analyzed on a case by case basis.
Videgaray said over the weekend at a conference in Washington that Mexico's government will prohibit financial transactions by individuals or firms allegedly involved in money laundering or financing terrorism.
"For the first time we have the ability to issue a list, and have that list prohibit any financial institution from carrying out transactions with these persons," Videgaray said Saturday.
He said those transaction bans will be based on U.S. and United Nations lists and Mexico's own designations. But the law that allows those lists is relatively vague and it is unclear whether the designations can be challenged in courts.
At least one expert warned Monday that it still isn't clear how the process will work.
"I think we, or the Mexican government, should be very careful in how these lists are put together and who is included, because if we are not, then there will be 20,000 human rights complaints," said Gerardo Palomar Méndez, a law professor at the Monterrey Technological university.
Last week, the U.S. Treasury Department's Office of Foreign Assets Control added to its "kingpin" list a Mexican real estate developer who allegedly operated on behalf of fugitive drug lord Rafael Caro Quintero.
U.S. law prohibits American citizens and U.S. companies from conducting financial or commercial transactions with those on the U.S. list, and being added to the list freezes any assets they may have under U.S. jurisdiction.
Based on reporting by The Associated Press.
Follow us on twitter.com/foxnewslatino
Like us at facebook.com/foxnewslatino