Mexico homicides jump by a third amid cartel infighting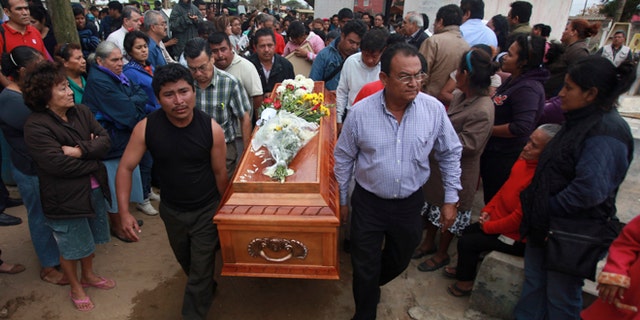 Homicides in Mexico jumped by more than a third in January, new figures showed, fueled by violence in states hit by an internal split in the Sinaloa drug cartel.
Murders were up by more than half in the northern states of Chihuahua and Sinaloa, according to official figures dated Monday. In Baja California there were almost 50 percent more.
DRUG LORD 'EL CHAPO' LAST OF A DYING BREED AS MEXICAN
CARTELS ENTER NEW ERA
Joaquin "El Chapo" Guzman, the powerful boss of the Sinaloa cartel, was extradited to the United States last month and is currently in a New York jail awaiting trial.
That power vacuum has led to an internal power struggle in the cartel, causing gang violence to surge in northern Mexico, Defense Minister Salvador Cienfuegos said earlier this month.
Mexico's government is focused on handling its largest diplomatic crisis for years, as U.S. President Donald Trump threatens America's southern neighbor with a border tax, deportations and a wall to keep out illegal immigrants.
MAN ON DEA'S MOST-WANTED LIST ARRESTED IN MEXICO, FACES
EXTRADITION TO THE US
In total, there were 1,938 homicides in January, up 34 percent from 1,442 in the same month last year.
Tomas Guevara, who studies crime at Sinaloa State University, said he thought that the more than 100 murders in his home state were mostly due to cartel infighting.
"The vast majority of these homicides are due to this problem ... we're living in a very tense moment," he said.