Mexico earthquake: At least one adult feared trapped in rubble of school
Rescuers in Mexico City stepped up their efforts Thursday to find any more survivors in the rubble of a school, two days after a magnitude-7.1 earthquake killed at least 273 people and injured more than 2,000 others.
For more than a day, rescuers at the Enrique Rebsamen school on the capital's south side said they were trying to free a 12-year-old girl. However, officials announced Thursday afternoon there were no children trapped -- but an adult, possibly a school worker, may still be in the rubble alive.
Twenty-one children and five adults are now confirmed to have died at the school.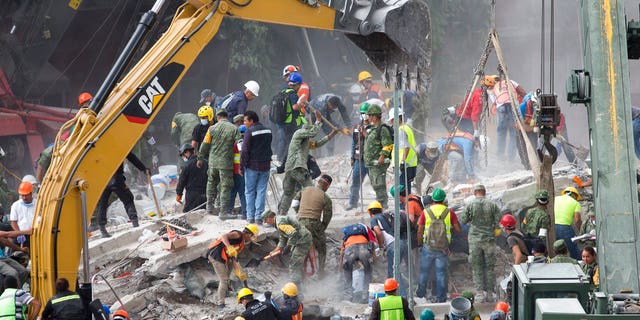 The debris removed from the school changed as crews worked their way deeper, from huge chunks of brick and concrete to pieces of wood that looked like remnants of desks and paneling to a load that contained a half dozen sparkly hula-hoops.
Rescuers carried in lengths of wide steel pipe big enough for someone to crawl through, apparently trying to create a tunnel into the collapsed slabs of the three-story school building. But a heavy rain fell during the night, and the tottering pile of rubble had to be shored up with hundreds of wooden beams.

Rescuers removed dirt and debris bucketful by bucketful and passed a scanner over the rubble of the school every hour or so to search for heat signatures that could indicate trapped survivors. Shortly before dawn Thursday the pile of debris shuddered ominously, prompting those working atop it to evacuate.
Mexican President Enrique Pena Nieto said the number of confirmed dead in the capital has risen from 115 to 137, bringing the overall toll from the quake to 273. Mexico City Mayor Miguel Angel Mancera said two women and a man had been pulled alive from a collapsed office building in the city's center Wednesday night, almost 36 hours after the quake.
Still, frustration was growing as the rescue effort stretched into Day 3.

Outside a collapsed seven-story office building in the trendy Roma Norte district, a list of those rescued was strung between two trees. Relatives of the missing compared it against their own list of those who were in the building when the quake struck -- more than two dozen names -- kept in a spiral notebook.

Patricia Fernandez's 27-year-old nephew, Ivan Colin Fernandez, worked as an accountant in the seven-story building, which pancaked to the ground, taking part of the building next door with it.

She said the last time the family got an update was late yesterday: that about 14 people were believed to be alive inside, and only three had gotten out.

"They should keep us informed," Fernandez said as her sister, the man's mother, wept into Fernandez's fleece sweater. "Because I think what kills us most is the desperation of not knowing anything."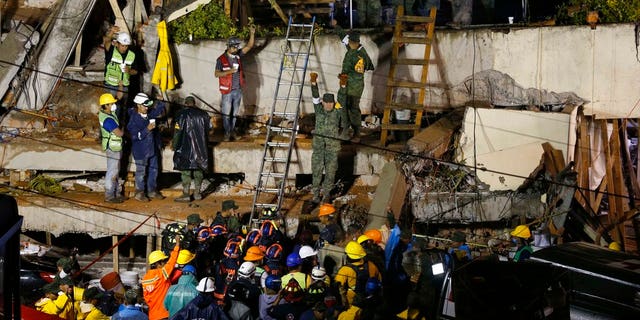 Referring to rumors that authorities intend to bring in heavy machinery that could risk bringing buildings down on anyone still alive inside, Fernandez said: "That seems unjust to us because there are still people alive inside and that's not OK."

She added, "I think they should wait until they take the last one out."
Seeking to dispel the rumors, National Civil Protection chief Luis Felipe Puente tweeted Thursday that heavy machinery "is NOT being used" in search-and-rescue efforts.

President Enrique Pena Nieto declared three days of mourning as soldiers, police, firefighters and everyday citizens dug through the rubble, at times with their hands, gaining an inch at a time.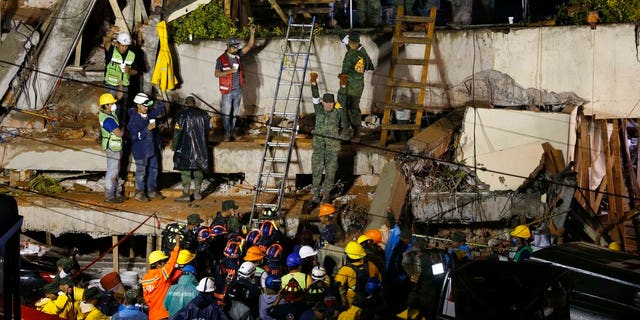 "There are still people groaning. There are three more floors to remove rubble from. And you still hear people in there," said Evodio Dario Marcelino, a volunteer who was working with dozens of others at a collapsed apartment building.

A man was pulled alive from a partly collapsed apartment building in northern Mexico City more than 24 hours after the Tuesday quake and taken away in a stretcher, apparently conscious.

At least 52 people had been rescued alive since the quake, the city's Social Development Department said, adding in a tweet: "We won't stop." It was a race against time, Pena Nieto warned in a tweet of his own saying that "every minute counts to save lives."
People have rallied to help their neighbors in a huge volunteer effort that includes people from all walks of life in Mexico City, where social classes seldom mix. Doctors, dentists and lawyers stood alongside construction workers and street sweepers, handing buckets of debris or chunks of concrete hand-to-hand down the line.

At a collapsed factory building closer to the city's center, giant cranes lifted huge slabs of concrete from the towering pile of rubble, like peeling layers from an onion. Workers with hand tools would quickly move in to look for signs of survivors and begin attacking the next layer.

In addition to those killed in Mexico City, the federal civil defense agency said 69 died in Morelos state just south of the capital and 43 in Puebla state to the southeast, where the quake was centered. The rest of the deaths were in Mexico State, which borders Mexico City on three sides, Guerrero and Oaxaca states.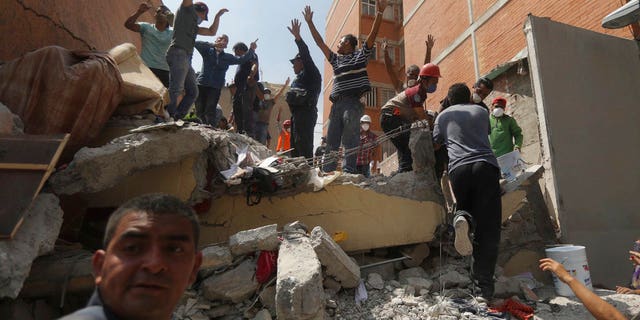 The Associated Press contributed to this report.