Mexico Arrests Former Cartel Lieutenant Wanted In Connection To Mass Graves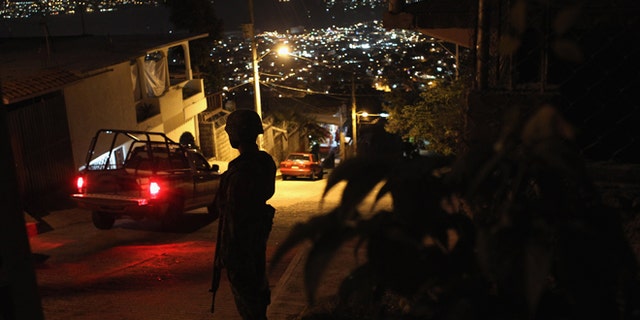 Mexico City – An alleged former Sinaloa drug cartel lieutenant who was captured by Mexican authorities is accused of involvement in the killings of more than 350 people found in various mass graves in 2011, officials said Thursday.
Police in the northern state of Chihuahua detained Mario Núñez, a 39-year-old also known as "M-10," on Wednesday in the border city of Ciudad Juárez, federal security spokesman Eduardo Sanchez said on Thursday.
Núñez, a former police officer, began working with the Juárez Cartel before joining the rival Sinaloa organization allegedly led by Mexico's most-wanted man, Joaquín Guzmán.
Núñez is wanted in the U.S. on drug-trafficking charges in a federal court in Texas, though it was unclear whether an extradition request had been placed with the Mexican government.
The government partially blames Núñez for an upsurge in drug violence that brought shootouts in broad daylight, ambushes of police and kidnappings to Ciudad Juárez, which is across from El Paso, Texas.
U.S. court documents say Guzman, known as "El Chapo," hired Núñez and gave him the job of snatching the smuggling corridors into the U.S. from the local Juárez Cartel, through ordering gangs of hit men to carry out killings that included grisly mutilations and decapitations.
The Juárez Cartel lost ground to the Sinaloa organization in a three-year battle that wound down in 2011.
But Núñez's criminal career continued, authorities say.
The Mexican government claims Núñez's power struggle with another drug chieftain in the spring of 2011 resulted in the slayings of 350 people, whose bodies were unearthed in 23 mass graves in the northern state of Durango.
"Much of the violence seen in the states of Chihuahua and Durango is partially because of the actions carried out by this man," Sanchez said.
The Mexican government said Sanchez could face up to 40 years in prison in Mexico, and it was not immediately clear whether there was a U.S. extradition request for him.
Based on reporting by The Associated Press.
Follow us on twitter.com/foxnewslatino
Like us at facebook.com/foxnewslatino