Mexicans hope pope's visit can jump-start debate about human rights, social justice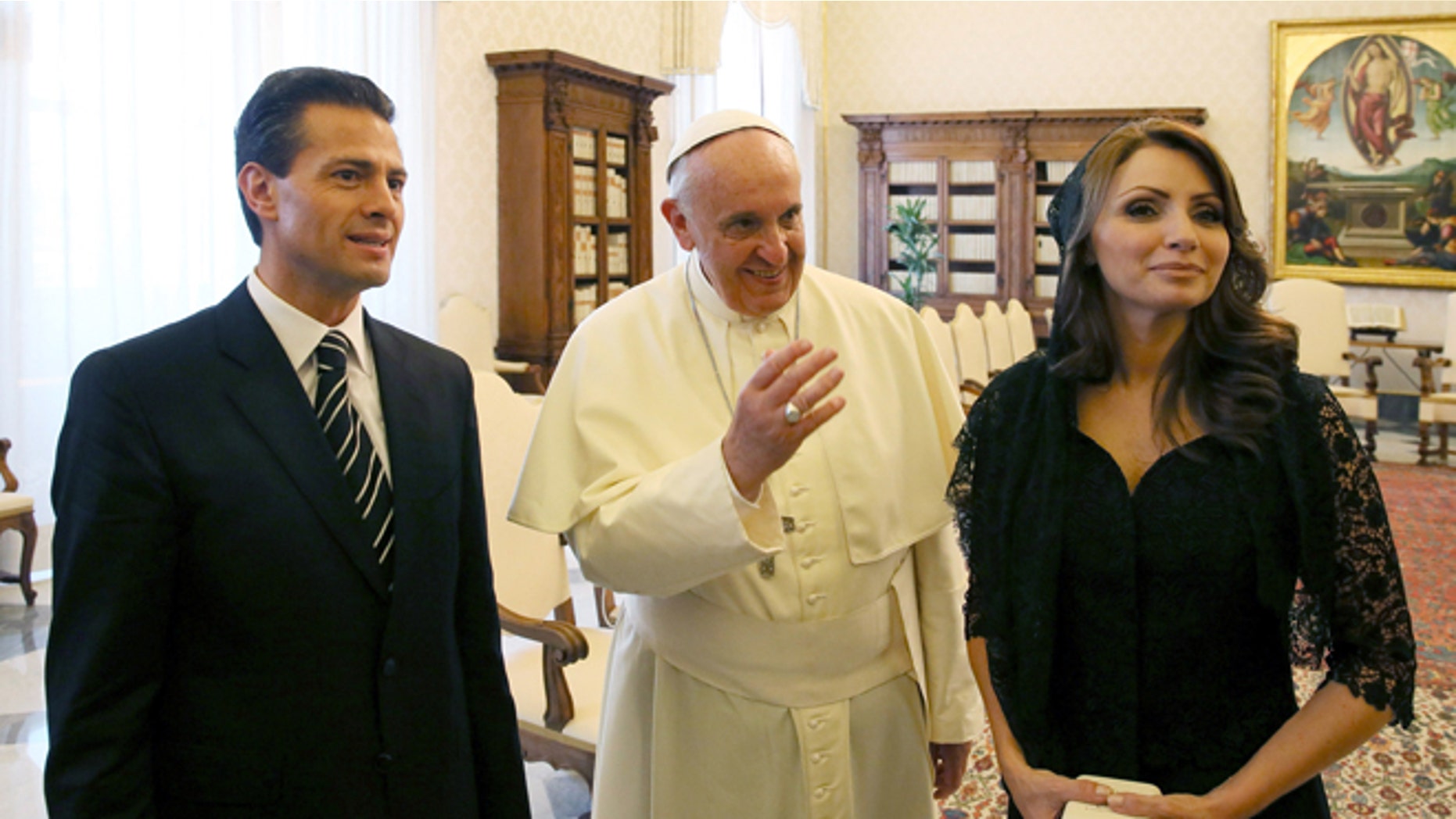 Mexico City – Late on Friday, Pope Francis' plane will land in Mexico City, flying in over billboards that read, "This is your home, Pope Francis" and "Mexico welcomes you with happiness in its heart," as well as a 11½-mile-long "wall of light" made of people holding up their phones.
For all the surface dazzle and goodwill accompanying the papal visit, Pope Francis' arrival in Mexico is likely to produce some awkward moments for the host country and its embattled president, Enrique Peña Nieto.
"You are living your little piece of war," Francis said about the country in a video interview last week, with Mexico's semi-official press organ, Notimex. "The Mexico of violence, the Mexico of corruption – I don't plan to cover any of that up. On the contrary, I exhort you to fight [these issues]."
With more than 80 percent of Mexico's population identifying itself as Catholic according to the Pew Research Foundation, that call to action could cause fresh headaches for a government already reeling from a spate of human rights and corruption scandals, as well as a decade-long drug war which Human Rights Watch says has cost 77,000 lives and left another 30,000 people missing.
Since the beginnings of the 20th Century, the Mexican government has had a fractious relationship with the Church, confiscating lands and banning religious attire in public. But successive presidential administrations since the early 1990s have sought to boost public opinion by bringing the church in from the cold, according to Prof. Andrew R. Chesnut, who holds the Bishop Walter F. Sullivan chair in religious studies at Virginia Commonwealth University.
"The constitutional reform of 1992 – spearheaded by President Carlos Salinas de Gortari – reversed much of the anticlericalism of the previous 75 years," he told Fox News Latino. "Successive right-of-center administrations from 2000 onward also meant closer relations."
Although two destinations on the papal itinerary can be considered "safe" choices – Feb. 13 will see the pontiff offer a prayer at the Basilica of the Virgin of Guadalupe, whose 20 million annual visitors make the site the Western world's busiest shrine, before receiving the silver-plated keys to Mexico City on the capital's Zócalo square – two of his stop-offs are fraught with symbolism for the Peña Nieto government.
On Sunday, the Pope will travel to the notoriously poor and violent city of Ecatepec in the state of Mexico – formerly governed by Peña Nieto himself – where levels of violence against women currently surpass those that struck the border city of Ciudad Juárez in the early 1990s.
Later in the week, the pontiff will say a Mass for young people in Morelia, Michoacán, which has been on the frontline in the country's war on the drug cartels since 2006. The state's Tierra Caliente region has seen the murder of five parish priests, whose preaching against violence angered the local narcos.
"Young people have two options here," Fidencio Avellaneda, a priest in the Tierra Caliente parish of Ciudad Altamirano, explained to FNL. "Either emigrate to the U.S. or work for the cartels. Working 12 hours a day as a laborer brings in about 70 pesos [$3.70], while a lookout for the local cartels can earn three times that. Our struggle is to stop criminal values becoming rooted in young people."
Gabriela Hernández Chalte, who manages the Casa Tochán migrant shelter in Mexico City's tough Observatorio neighborhood, is hopeful that the pope will stay to true to his tendency to go off-message, citing the moment during his September visit to the U.S. when 5-year-old Sophie Cruz broke through security barriers protecting the papal motorcade, and handed the pontiff a note asking him to speak out on immigration reform.
"I want him to do something like this with the parents of the 43 Ayotzinapa students," Hernández Chalte said, referring to the kidnapping and probable murder of a group of young teachers' college students in September 2014 that caused unrest throughout the nation. "For him to break protocol – even for three minutes – would be huge."
The pope's "cross-border" Mass in Ciudad Juárez on Feb. 17 is, Chalte hopes, another moment where he will "break with the script" and address the rising number of abuses facing Central American immigrants who flee north from grinding poverty and violence in their homelands. Despite the Mexican government's crackdown on such migrants, known as Plan Frontera Sur ("Southern Border Plan"), the tide of people continues to rise, with deportations in the United States doubling to 170,000 last year.
"Faith keeps migrants going, more than anything else. I often see them pray, 'May God be before me' together before they get on board the Bestia [the Beast]," says Hernández Chalte, using the nickname for the dangerous freight train route many migrants have chosen in their journey north. "The pope won't save them from their problems, but he might strengthen their faith – and that helps."
As part of his interview with Notimex last week, Pope Francis commented, "I am not traveling to Mexico like one of the three wise men, loaded with presents, messages, ideas, solutions."
For priests like Avellaneda and activists like Hernández Chalte, the pope's unpredictability could be a gift in itself.