Mexican soldier who guarded 'Chapo' Guzmán in jail found murdered, tortured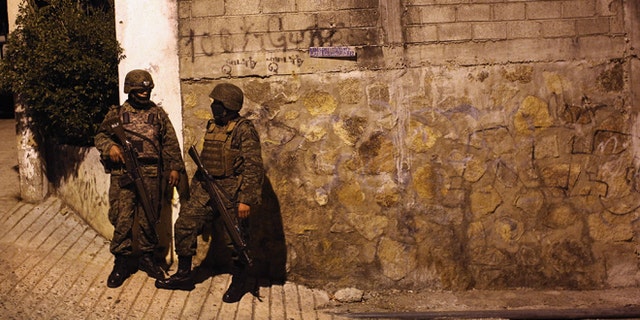 NEWYou can now listen to Fox News articles!
One of the soldiers tasked with guarding the imprisoned Mexican drug lord Joaquín "El Chapo" Guzmán was found dead late last week with his body bearing obvious signs of torture.
The body of 20-year-old Jorge Mauricio Meléndez Herrera, one of the Mexican soldiers stationed in the first ring of security outside the prison where Guzmán is being held near the U.S.-Mexico border, was discovered in Ciudad Juárez.
A forensic expert said that Meléndez died from a blow to the back of the head, but he was also found to have suffered multiple stab wounds. His body was identified after his family reported him missing.
The case is currently being handled by state investigators in Chihuahua, where the Cefereso No. 9 prison is located, but it could be passed on to federal investigators because of the possible connection to Guzmán and his Sinaloa Cartel.
Around 300 soldiers have been deployed from nearby barracks to guard the prison in Ciudad Juárez, just across the Rio Grande from El Paso, Texas. Guzmán was moved from the maximum-security Altiplano prison near Mexico City to Cefereso No. 9 in May.
A Mexican government spokesperson said the transfer was made for humanitarian reasons because the drug lord's health was deteriorating at Altiplano.
But some security experts said it was a natural step before the drug lord's extradition moves forward.
"The vast majority of transfers take place across the bridges in El Paso," Victor Manjarrez Jr., the former U.S. Border Patrol chief for the Tucson Sector, told Fox News Latino. "It's a short distance to [a U.S. Immigration and Customs Enforcement] removal operations office, and an even shorter distance to the airport. San Antonio makes a lot of logistical sense."
Two law enforcement officials familiar with the extradition process told the Associated Press over the weekend that it's likely that if transferred from Mexican to U.S. custody in coming months, Guzmán would be sent to the Eastern District of New York in Brooklyn to stand trial.
The officials spoke on condition of anonymity because they weren't authorized to speak publicly about the decision-making process.