Mexican Reporter Threatened By Cartel Violence Before Being Killed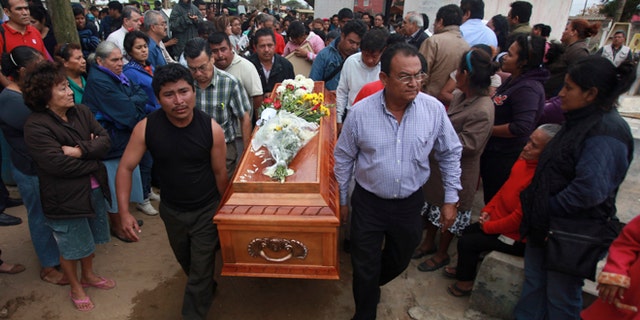 VERACRUZ, Mexico (AP) – The daughters of a reporter slain in the Mexican state of Veracruz told authorities that a woman angered by one of his stories had threatened to have a drug cartel kill him.
The statements by Gregorio Jiménez's daughters contradicted the official version that the reporter was killed in a personal vendetta related to his son and the family of the woman he dated.
The daughters, Cindy and Flor, told authorities Friday that their father had a heated argument last year with Teresa de Jesus Hernández, who was angry about a story he wrote of a man getting stabbed outside her bar in Coatzacoalcos, Veracruz.
They said the dispute came to blows and that Hernández told their father she knew members of the Zetas drug cartel and would hire them to kill him.
"Mrs. Teresa shouted at him 'remember the story you wrote. I'm holding on to that. I know the Zetas and I will have you killed," Cindy Jiménez said, according to her statement to authorities read by a court employee.
Gunmen kidnapped Gregorio Jiménez, 42, from his home in Coatzacoalcos last week. Police found his body Tuesday buried in the backyard of a home in the nearby town of Las Choapas along with a taxi driver and a union leader who was kidnapped in January.
Jiménez had also written about the union leader's kidnapping.
Prosecutors in this Gulf Coast state arrested Hernández and four men, and said that she ordered the reporter killed in a personal vendetta after a falling out between her son and his daughter, who had dated.
But his family and colleagues say they don't believe the government's findings and are calling for a thorough investigation into potential ties between the reporter's work and his murder.
Jiménez was a police beat reporter for the daily newspapers Notisur and El Liberal. He is at least the 12th journalist slain or gone missing since 2010 in Veracruz.
Follow us on twitter.com/foxnewslatino
Like us at facebook.com/foxnewslatino