Mexican president Peña Nieto confronts new questions about his properties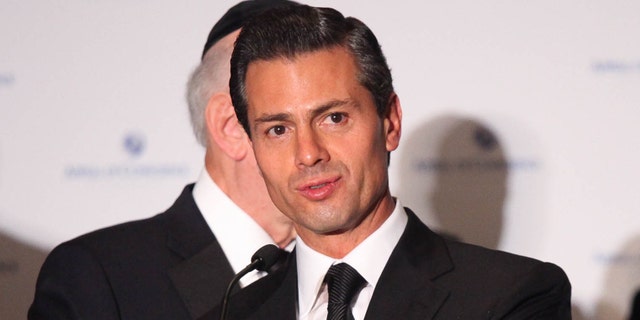 NEWYou can now listen to Fox News articles!
MORELIA, Mexico – A property purchased by Mexican President Enrique Peña Nieto a decade ago is bringing conflict of interest allegations against an administration struggling to regain the country's trust.
The allegation goes back to 2005, shortly after taking office as governor of Mexico state, when he bought an estate on an exclusive country club in the weekend retreat town of Ixtapan de la Sal. According to the Wall Street Journal, the state belonged to a developer who went on to win contracts from state and federal governments.
Peña Nieto has denied any wrongdoing or showing special attention to the developer, identified by the Journal as Constructora Urbanizadora Ixtapan SA.
"Before Mr. Peña Nieto came to power, the company had never won a contract directly from the federal government," the Journal reported.
While Peña Nieto was governor of Mexico state, which surrounds Mexico City like a horseshoe, from 2005 to 2011, the firm "went on to win more than $100 million in public-works contracts," the Journal said.
The President's Office says Peña Nieto's ownership of the property is public knowledge and its purchase did not involve a conflict of interest.
"The president of the republic legally acquired his Ixtapan de la Sal house," the President's Office said in a statement posted on its website. "He showed it in the declaration of his patrimony as governor of Mexico state and in his capacity as president of the republic. The said home has been used in a public and notable way."
Peña Nieto previously won praise for achieving the approval of structural reforms in areas such as energy, education and telecommunications, but has become stuck in scandal as he and his Institutional Revolutionary Party (PRI) prepare for midterm elections. According to a poll by Reforma newspaper, his approval rating dropped to 39 percent – the lowest for any leader in 20 years.
The controversy on the property comes at a time when Peña Nieto is confronting criticism for his aloof handling of the case of 43 missing students who were allegedly kidnapped by police in late September, turned over to organized crime and presumably killed.
It also follows media stories showing that his wife, Angelica Rivera, and Finance Minister, Luis Videgaray, purchased homes with credit provided by another developer doing business with the government.
Both Rivera and Videgaray have said the properties were purchased properly – and, in the case of Videgaray, while he was not holding any public office. Details of the first lady's $7.2 million home – reported by Aristegui Noticias – were published shortly after the federal government canceled a $4.3 billion high-speed rail contract awarded to a Chinese company planning to build the line with Mexican partners, which included the developer, Grupo Higa.
Federal officials deny any relation between the first lady's home and the decision to cancel the contract. The government opened bidding again earlier this month for the project, to be built between Mexico City and Querétaro.
The home in Ixtapan de la Sal is valued at $372,000, according to the Journal, and was purchased from a firm founded by Roberto San Román Widerkehr. San Román passed away in 2010, though his company continues being run by family. The company website showed it completing projects such as schools and roads for various governments in Mexico.
"The relationship of Mr. Peña Nieto with some members of the San Román family goes back several decades," presidential spokesman Eduardo Sánchez told the Journal.
"The builder that is referred to in the story participated in accordance to the applicable law in the contracting process," the President's Office said. "The president of the republic … does not participate in the process of awarding contracts."
Mexico state has long been a ruled by Peña Nieto's Institutional Revolutionary Party (PRI,) which has always held the governor's office, and been characterized by a political culture of closeness between politicians and businessmen, says Bernardo Barranco, an academic and former election official in the state.
Former Mexico State Governor Carlos Hank González, who amassed a fabulous personal fortune, is credited with coining the Mexican political maxim, "A politician who is poor is a poor politician."
Other observers, such as Alejandro Páez Varela, editorial director of the online publication Sin Embargo, say Peña Nieto has approached the entire country as if it were Mexico state – where the press, civil society and opposition are weak and either co-opted or kept under control by the PRI.
"They forgot that Mexico, in general, experienced a transition in which many Mexicans bought into the idea of having political parties, having transparency and doing away with corruption," Páez says. "This isn't on their agenda."