Mexican man in U.S. illegally to stand trial for rampage that left 5 dead in two states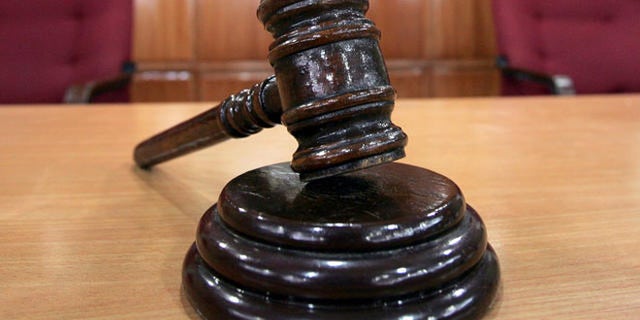 NEWYou can now listen to Fox News articles!
MONTGOMERY CITY, Mo. (AP) – A Mexican national suspected of killing five men in a two-state crime rampage will stand trial in Missouri, a judge ruled Thursday.
Pablo Antonio Serrano-Vitorino, 40, is accused of killing a neighbor and three other men at the neighbor's home on March 7 in Kansas City, Kansas, then going about 170 miles into Missouri and killing Randy Nordman in New Florence, about 80 miles west of St. Louis, the following day.
Four law enforcement officials, a medical examiner and a coroner testified at a preliminary hearing in Montgomery County, where Serrano-Vitorino is charged with first-degree murder, burglary and armed criminal action in Nordman's death. Associate Circuit Judge Kelly Broniec ruled after the hearing that there was enough evidence to move forward with a trial. Arraignment was scheduled for June 1. Missouri prosecutors are seeking the death penalty.
Nordman's stepdaughter, Tasha Lawson, attended the hearing along with four relatives of the Kansas victims.
"I wanted to be here because I wanted to see the guy who took my dad from us and caused us as much pain as it did," Lawson, 26, said. "It actually hurt more to see him."
Serrano-Vitorino, cuffed at both the hands and feet, mostly stared straight ahead during two hours of testimony. He used headphones to listen through a Spanish interpreter.
Serrano-Vitorino also is charged with four counts of first-degree murder in Kansas. It isn't clear whether Kansas prosecutors will also seek the death penalty. A message left Thursday with a spokesman for Wyandotte County, Kansas, District Attorney Jerome Gorman was not immediately returned.
Authorities have not discussed a motive, though Gorman has said the Kansas killings did not appear to be drug-related.
A probable cause statement alleges that Serrano-Vitorino confronted Nordman, 49, in Nordman's garage, and the two struggled over Serrano-Vitorino's rifle. As Nordman's wife ran for safety inside the house and called 911, she heard a gunshot and saw a man running away.
Missouri State Highway Patrol Sgt. Brooks McGinnis testified that he spotted Serrano-Vitorino hiding in the grass near Interstate 70 late on March 8 or early on March 9, an assault rifle at his side. He said Serrano-Vitorino was arrested without incident.
"He just appeared exhausted and he was soaking wet," McGinnis said.
Forensic pathologist Deiter Duff, who performed the autopsy on Nordman, said he died of a gunshot wound to the chest that severed his aorta. Duff said a shell fragment was found in Nordman's body. On questioning from defense attorney Don Catlett, Duff said it was impossible to determine how far the shooter was from Nordman.
Missouri State Highway Patrol trooper Kyle Seabaugh said a magazine and spent shell casing were found at the garage. Patrol Sgt. Jason Clark testified that both matched the assault rifle found when Serrano-Vitorino was captured. Clark said blood found in Nordman's kitchen matched Serrano-Vitorino with near 100 percent certainty.
Serrano-Vitorino is in the country illegally, U.S. Immigration and Customs Enforcement has said. He was deported in April 2004 and illegally re-entered the country sometime later. He has avoided deportation despite legal run-ins that have included a battery conviction last summer in Kansas City, Kansas, ICE said.