Merkel's call for burqa ban in Germany draws backlash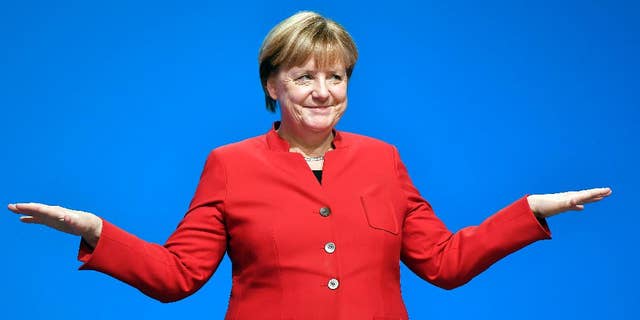 German Chancellor Angela Merkel signaled support Tuesday for a nationwide ban on full-face veils worn mainly by Muslim women – a move that had an American Islamic advocacy group crying foul, claiming it impedes freedom and increases "Islamophobia."
As she looks to beat back challenges from her right and win a fourth four-year term as chancellor, Merkel, who had previously opposed a burqa ban, told the Christian Democratic Union conference on Tuesday that prohibiting the veil was essential to stopping the development of "parallel societies." She said such veils were "not appropriate."
DUTCH LOWER HOUSE APPROVES BURQA BAN
"In communication between people, which is of course essential to our living together, we have to show our faces," said Merkel, who faces opposition from the far right after leading the charge to accept nearly a million mostly Muslim asylum-seekers in 2015. "So the full veil should be forbidden wherever legally possible."
But Merkel's about-face on the full-face veil swiftly drew pushback from the Council on American-Islamic Relations.
"We believe everyone should be free to wear the clothing of their choice and that laws targeting the tiny minority of Muslim women who wear face coverings are an expression of increasing Islamophobia in Europe," spokesman Ibrahim Hooper told FoxNews.com. "Freedom is about making personal choices, not having a decision imposed on individuals by the state. Growing anti-Muslim bigotry should be repudiated, not pandered to."
Merkel has previously walked a political tightrope, expressing her desire to have women not wear burqas in an effort to allow integration, but also hesitating to support a legislative rule forbidding the garment.
Germany is only the latest country to consider a burqa ban and comes on the heels of the Dutch Parliament voting on Nov. 30 to ban face veils in its country, though the Senate must approve the measure for the Netherlands ban to take effect. France, Belgium, Bulgaria, Switzerland and Italy also have forms of the ban already in place.