Man taking selfie in front of woman hit by train in Italy sparks outrage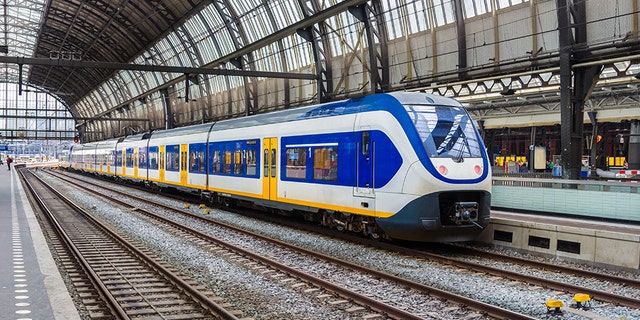 A photograph of an unidentified man taking a selfie in front of emergency workers helping a Canadian woman who was struck by a train in Italy has sparked widespread outrage.
The unidentified woman accidentally walked out of the wrong door before she was struck by a train at the Piacenza station near Milan on May 26, the BBC reported. Emergency officials helped the woman off the track, but not before a man in a white shirt and shorts took a picture of himself in front of the scene.
Officials caught the man taking a photo and demanded he delete the snap, according to BBC. No further action was taken against the men by police.
AMERICAN COUPLE SHOT DEAD IN MEXICO HOME IN APPARENT BOTCHED ROBBERY, OFFICIAL SAYS
Italian photojournalist Giorgio Lambri captured the man taking the selfie at the scene, posting it in the Liberta di Piacenza newspaper with the headline: "The barbarism you don't expect: The 'selfie' in front of a tragedy."
Lambri also posted the photo on Facebook with the caption, "Houston, we have a problem."
"I have seen many crimes and terrifying scenes, but I'm not ready to [see] this," Lambri told Global News.
The photograph outraged social media users and readers around Italy who called it "repulsive" and "inhuman," News.com.au reported.
COURT ORDERS PUERTO RICO TO RELEASE STORM-RELATED DEATH DATA
Nicola Savino, a radio host, said the "human race was galloping towards extinction."
It was not immediately clear how the woman was struck by the train, but BBC reported she may have fell out of the train when the door opened. She reportedly had her leg amputated following the incident.