Maldives player attacks ref after SAFF defeat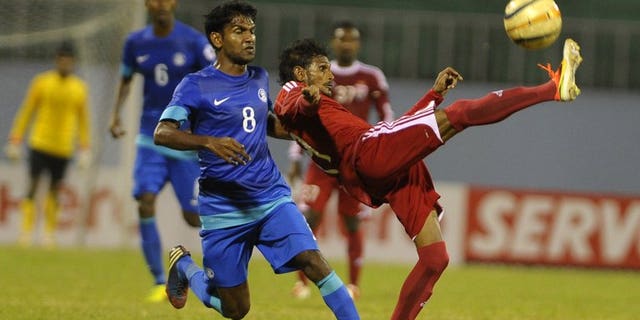 KATHMANDU (AFP) – The Maldives' football coach has blamed a disputed penalty decision for flared tempers after his team's 1-0 loss to India which saw a player assault the referee and the police called in to restore calm.
Players from the Indian Ocean island nation charged at Jordanian referee Idham Mohammad at the end of the semi-final of the South Asian Football Federation (SAFF) tournament in Kathmandu on Monday.
Maldives defender Ali Umar was red-carded after the game for the fracas which also saw organisers pushed around after they rushed on to the field to protect the officials.
The country's Hungarian coach Istavan Urbanyi said his players were angry at the referee for denying his team a penalty in the second-half before India clinched victory through Arnab Mondal's 85th minute goal.
"As for the players, it was a very emotional thing for them. I am not saying it was the right thing to do, but the players were emotional and angry," he told a post-game press conference.
He praised his team which thrashed Sri Lanka 10-0 and Bhutan 8-2, before playing a 0-0 draw against Afghanistan in the league stage, adding that India did not deserve the victory.
"My first thought is that it was a penalty and you don't have to kill the striker to get a penalty," Urbanyi said.
"What happened afterwards is we made one mistake, which led to the goal, but I can't say India deserved the win."
Urbanyi said he had been manhandled after the game ended.
"Someone caught my neck and hand, I do not know for what," the Hungarian said.
India, hoping for a hat-trick of titles after winning the last two editions, take on Afghanistan in Wednesday's final. The Afghans defeated hosts Nepal 1-0 in Sunday's first semi-final.
Afghanistan will likely miss defender Farzad Ghulam, who is recovering from a mild heart attack suffered on the pitch after a collision with Nepal's Anil Gurung in the semi-final.
The 43-year-old Ghulam fell unconscious and needed cardio-pulmonary resuscitation (CPR) from team doctors before an ambulance arrived on the field to carry him to hospital.
Tournament official Narendra Shreshta told www.goal.com that Ghulam had been kept in hospital for observation, but added that doctors had confirmed he was out of danger and his condition was stable.