Making History: Cristina Fuentes Among The First Female Marines To Complete Training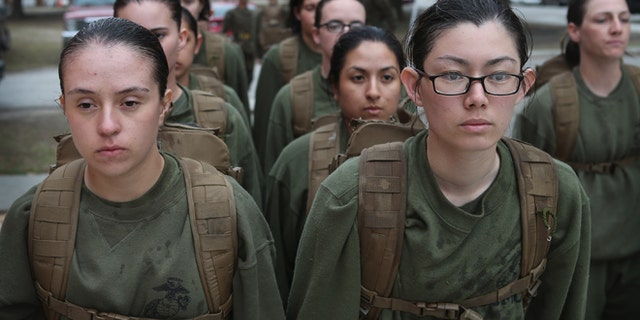 After a demanding 59-day test of physical and mental strength, Cristina Fuentes Montenegro became one of the first three women to compete the Marine Corps' enlisted infantry training course at Camp Geiger, N.C.
Earning a place in U.S. military history, Fuentes – along with Julia Carroll and Katie Gorz – completed the course after the mandatory course was opened to women this fall as part of the Marine Corps' research to identify which other ground combat restrictions for female soldiers could be lifted.
The course, called IBT by the Marines, is mandatory for all enlisted personnel hoping to obtain an infantry military occupational specialty.
"You have to fight for that job. You have to earn it," Lt. Col. Dave Wallis said during the graduation ceremonies following the course. "Never stop challenging yourself, never stop moving forward."
The three women were part of a class of 225 to graduate from the infantry training course. fourth woman, Harlee "Rambo" Bradford, hopes to complete the course soon once she heals after being sidelined with a leg fracture.
Fuentes and her two female comrades were part of 15 women who joined the company for training. Before the hardest physical challenge – a taxing 2½-mile hike while weighed down with a 90-pound combat load – seven women remained, while after the hike only four were left standing.
"Our instructor, he told us all it takes is everything you got, and it's true," Fuentes told the Marine Corps Times. "Once you are committed to a goal, you can make it if you put everything into it."
The use of women in combat roles within the military has been controversial both within the ranks of the Armed Forces and in the court of public opinion. But their male counterparts seemed to not be concerned with female counterparts, at least during training.
"Everyone has their own opinions," said Trent Wetzel, who graduated alongside the women. "Personally, I believe it's fine. Training is training."
Follow us on twitter.com/foxnewslatino
Like us at facebook.com/foxnewslatino