Living hell: Officials alarmed by upsurge of inmates dying in Haiti prisons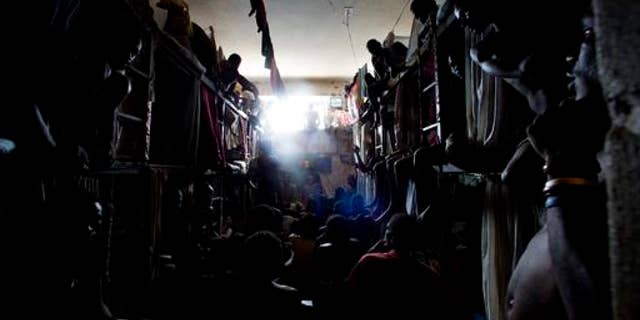 With widespread malnutrition and rats scampering through cells made for 20 men but crammed with 80 to 100, inmates in Haiti's prisons find it hard to focus on anything but survival.
The mortality rate behind bars is reaching alarming levels, with 21 inmates dead at the Port-au-Prince penitentiary just last month.
"Only the strong can make it in here," said Ronel Michel, a prisoner in one of the crumbling cellblocks where exterior walls are stained with dried feces because the men have to drop their excrement out of barred windows.
About 80 percent of those incarcerated have not been convicted of a crime and are held in prolonged pretrial detention. Some have been waiting up to eight years to see a judge.
CANADA ANNOUNCES $70M IN DEVELOPMENT AID FOR HAITI
"I'm really scared I won't get to see a judge until I'm an old man," said Paul Stenlove, a 21-year-old murder suspect who was put in the prison 11 months ago.
Those who monitor the country's lockups are sounding an alarm about collapsing conditions.
"It's a permanent struggle just to keep them (Haitian prisoners) alive," said Thomas Ess, chief of delegation for Haiti's Red Cross office.
Severe overcrowding is partly due to rampant corruption, as judges, prosecutors and lawyers join in creating a market for bribes, said Brian Concannon, director of the nonprofit Institute for Justice and Democracy in Haiti.
"If nine in 10 prisoners is in pretrial detention, and a person has no prospect of getting a fair trial for years, his family will find some way of raising the funds to bribe him out, regardless of guilt," Concannon said.
Some foreign officials who have seen the system up close are exasperated by a lack of political will to solve problems of corruption, sluggish justice and prison conditions.
HAITI HOLDS FINAL ROUND OF ELECTION CYCLE STARTED IN 2015
"It is unconscionable that despite hundreds of millions of dollars in international aid the situation is even worse today, with inmates suffering from severe malnutrition and dying of preventable diseases," U.S. Sen. Patrick Leahy, who toured the National Penitentiary in 2012, said in an email.
Prisons are overcrowded in any number of countries. But Haiti's penal system is by far the globe's most congested, with a staggering 454 percent occupancy level, according to the most recent ranking by the University of London's Institute for Criminal Policy Research. The Philippines comes second with 316 percent occupancy.
Prisoners at the crumbling Port-au-Prince penitentiary flocked around a team of Associated Press journalists on a recent morning, eager to discuss their cases and complain of being all but forgotten at the foul-smelling furnace. Some 40 percent of the country's 11,000 inmates are housed there in appalling squalor, a block away from government headquarters, and many are tormented by the prospect of indefinite detention.
"Straight up: This is hell. Getting locked up in Haiti will drive you crazy if it doesn't kill you first," said Vangeliste Bazile, a homicide suspect.
The Associated Press contributed to this report.