Libya's Ex-Minister Reportedly Claims Qaddafi Ordered Lockerbie Bombing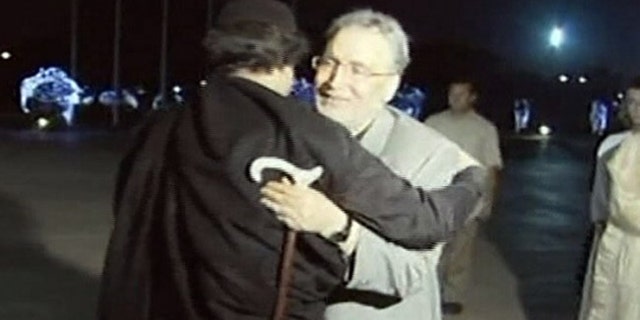 Libya's ex-justice minister claims the country's leader, Muammar al-Qaddafi, ordered the Lockerbie bombing that killed 270 people, according to the Swedish tabloid Expressen.
Mustafa Abdel-Jalil was quoted Wednesday telling an Expressen correspondent in Libya that he has "proof that Qaddafi gave the order about Lockerbie."
Abdel-Jalil, who stepped down as justice minister to protest violence against anti-government demonstrations, did not describe the proof.
He told Expressen that Qaddafi gave the order to Abdel Baset al-Megrahi, the only man convicted in the bombing of Pan Am Flight 103 on December 21, 1988. The airliner exploded over Scotland and all 259 people aboard and 11 on the ground died when it crashed into the town of Lockerbie. Most of the victims were Americans.
"To hide it, he [Qaddafi] did everything in his power to get al-Megrahi back from Scotland," Abdel-Jalil was quoted as saying.
Al-Megrahi was convicted in 2001 and sentenced to life in prison, but was granted a compassionate release from a Scottish prison in August 2009 on the grounds that he was suffering from prostate cancer and would die soon. He is still alive.
Al-Megrahi spent roughly 11 days behind bars for each victim in the bombing. Upon al-Megrahi's release in 2009, President Barack Obama said the decision to free the terminally ill bomber on compassionate grounds was a mistake.
U.S. Sen. Robert Menendez, D-N.J., said the new report, if correct, confirms that Qaddafi "is a terrorist - plain and simple."
"His personal involvement in the Pan Am bombing would not be a surprise, but rather confirms his defective character. It explains his personal advocacy for the release of convicted bomber Abdul Baset Ali Mohmed al-Megrahi - to ensure that he would not confess Qaddafi's role in the bombing."
Expressen spokeswoman Alexandra Forslund said its reporter, Kassem Hamade, interviewed the ex-justice minister at "a local parliament in a large city in Libya." She didn't want to name the city, citing security concerns.
Expressen taped the interview, which was conducted in Arabic and translated to Swedish, Forslund said.
Qaddafi has been trying to bring his country out of isolation, announcing in 2003 that he was abandoning his program for weapons of mass destruction and renouncing terrorism.
Qaddafi also accepted Libya's responsibility for the Lockerbie bombing and paid compensation to the victims' families. But he hasn't admitted personally giving the order for the attack.
Many of the passengers on the airliner were American college students flying home to New York for Christmas, and victims' families have expressed outrage at al-Megrahi's release.
"I think it's appalling, disgusting and so sickening I can hardly find words to describe it," said Susan Cohen of Cape May Court House, New Jersey, upon al-Megrahi's release in 2009. Cohen's 20-year-old daughter, Theodora, died in the attack. "This isn't about compassionate release. This is part of give-al-Qaddafi -what-he-wants-so-we-can-have-the-oil."
Bob Monetti, of Cherry Hill, N.J., whose 20-year-old son Richard was killed in the bombing, said he's glad to hear a former official say what's been clear to him all along. He said officials and the media, especially in the U.K., have been denying that.
"Ever since the trial, which was held in a totally obscure location in Holland and was covered by nobody, there's been a drumbeat in the UK about how this is a trumped up thing and Libya had nothing to do with it," he said. "If you went to the trial, there was no question about who did it and why, and who ordered it."
Monetti said he's been following coverage of the Libyan uprising closely.
"I can't wait until we see pictures of Qaddafi hanging by his heels," he said.
The Associated Press and Geoff Mulvihill in Haddonfield, N.J., contributed to this report.