Kim Jong Un's luxury ski resort a propaganda win for North Korea during Olympics
Kim Jong Un's luxury ski resort will be used to conduct training for North and South Korean skiers ahead of next month's Winter Olympics, providing a propaganda showcase for the despot's multimillion pet project that's been riddled with controversy.
A South Korean delegation is expected to tour North Korean sites Tuesday, including the Masikryong ski resort, where events will be held ahead of the Olympic Games. The ski resort will host training for non-Olympic skiers, South Korea's Unification Ministry announced after a joint meeting with the North last week.
The resort, near the city of Wonsan along the country's northern coast, opened in 2013 and was one of the despot's first major projects after assuming power. North Korean propaganda website "Today Chosun" on Monday began promoting the extravagant site, labeling it as Kim Jong Un's signature achievement.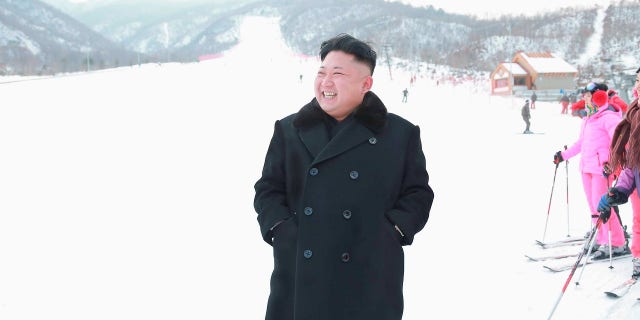 "Masikryong Ski Resort is a world-class one that lacks for nothing," the propaganda site said, according to Yonhap News Agency. "The resort is about 14 million square meters in its total area, and has 10 slopes, which are 40 meters to 120 meters wide."
But the luxury resort — complete with snow-covered slopes, hotels, restaurants and shops — wasn't always lauded by visitors as a "world class" vacation destination.
"The idea of joint training could be used as a propaganda tool to rationalize how far-sighted Kim Jong Un was in making what was actually an anachronistic decision to build the ski resort at a time when ordinary citizens are starving to death," Kim Sung-han, a former South Korean vice foreign minister, told Reuters on Sunday.
NORTH KOREA SENDING 22 ATHLETES TO WINTER OLYMPICS, BOTH COUNTRIES TO MARCH TOGETHER
Masikryong ski cost an estimated $35 million to build and was up and running within 10 months, what North Koreans proudly called "Masikryong speed." However, visitors noted "some of the trimmings are less than perfect," the Guardian reported.
"The design is quite modern and seems very much like a Chinese/European ski chalet," visitors wrote in The Guardian.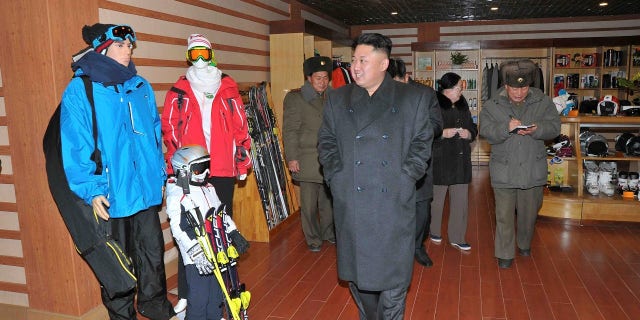 But Korea Ski Association said the resort meets the International Ski Federation's requirements as a training facility, according to the Korea Herald.
Despite its glamorous appearance, the ski resort reportedly has mostly been a "ghost town" since its opening. A 2017 report by NBC also showed North Korean citizens, including children, were tasked with clearing the snow on the roads near the resort with "makeshift wooden shovels." No salt was scattered on the streets and snowplows were nowhere in sight, the report said.
Some of those clearing the snow were children as young as 11.
NORTH KOREA'S 'ARMY OF BEAUTIES' CHEERLEADING SQUAD HEADING TO SOUTH KOREA FOR OLYMPICS
Kim has made an effort to increase his regime's tourism to boost foreign currency flowing into the country amid the toughening international sanctions. The Hermit Kingdom previously attempted to draw international interest to the ski resort by inviting celebrities such as former NBA star, and Kim's friend, Dennis Rodman.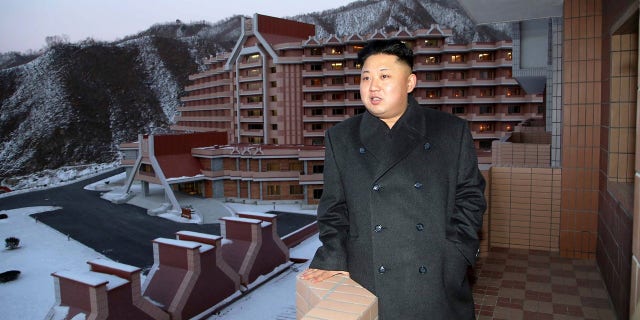 South Korean critics said the use of the ski resort would only promote the location Kim reportedly hopes to become a tourist hotspot.
"Masikryong resort opened in 2013, and North Korea is busy promoting it because not enough foreigners are visiting. For our players to train there is preposterous," said Rep. Na Kyung-won of the Liberty Korea Party on TBS radio, according to the Korea Herald. "I think [the Olympics] are being used for North Korean propaganda."
KIM JONG UN'S EX, NORTH KOREA'S GIRL BAND LEADER APPEARS AT OLYMPIC MEETING DESPITE GRUESOME EXECUTION RUMORS
South Korean officials defended the decision last week as an effort to promote "Peace Olympics."
"The idea is part of Seoul's vision to make the upcoming event the 'Peace Olympics,'" an official at Seoul's unification ministry said, according to Yonhap. "It was proposed as a way to help improve inter-Korean ties and ease tensions on the Korean Peninsula, and it was realized [in the two sides' agreement]."