Kim Jong Un walks into South Korea to shake hands with Moon Jae-in
North Korean leader Kim Jong Un crossed the border into South Korea on Friday and has started talks on nuclear weapons with President Moon Jae-in for a historic summit.
Moon called for more meetings between the leaders and said he wishes to travel in North Korea to visit Mount Paektu near the country's border with China.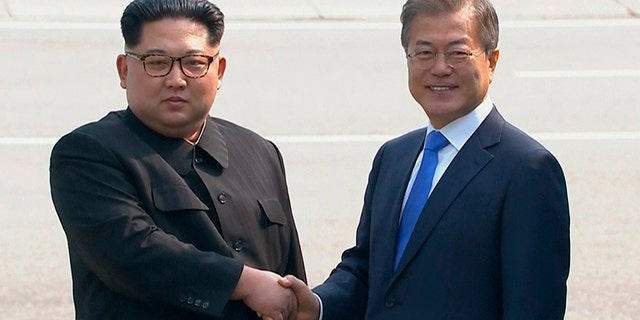 Kim told Moon he "won't interrupt your early morning sleep anymore," referring to missile tests, South Korea said.
It was the first time a member of the Kim dynasty was known to set foot on South Korean soil since 1953. The two men shook hands and smiled for news cameras.
The meeting comes weeks before Kim plans to sit down with President Donald Trump. The rogue nation's nuclear capabilities are expected to be a major topic of discussion during the summit with the U.S. leader.
The historic meeting of the two Korean leaders was scheduled down to the last detail. Thousands of journalists were kept in a huge conference center well away from the summit, except for a small group of tightly-controlled pool reporters at the border.
"I feel like I'm firing a flare at the starting line in the moment of (the two Koreas) writing a new history in North-South relations, peace and prosperity," Kim said. Moon responded that there were high expectations that they create an agreement that will be a "big gift to the entire Korean nation and every peace loving person in the world."
OPINION: HISTORIC NORTH-SOUTH KOREA SUMMIT WILL SET THE STAGE FOR EVEN BIGGER TRUMP, KIM JONG UN SUMMIT
Upon their initial meeting, Moon and Kim shook hands with the border line between them. Moon then invited Kim to cross into the South, and, after he did so, Kim grasped Moon's hand and led him into the North and then back into the South. They took a ceremonial photo facing the North and then another photo facing the South.
Moon and Kim were set to plant a pine tree together on the borderline, using dirt from both the North and South's mountains and rivers, before beginning formal talks.
They also were expected to discuss ways to both improve relations and settle the 1950-53 Korean War, which was halted with an armistice, not a peace treaty.
Kim said he was ready for "heartfelt, sincere and honest" discussions with Moon, adding the Koreas shouldn't repeat past situations where they were "unable to fulfill our agreements."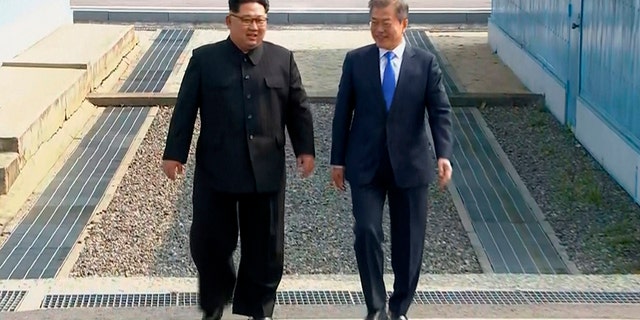 The White House said in a statement, "We wish the Korean people well" during the summit, which is also expected to have a heavy focus on North Korea's arsenal of nuclear weapons.
"We are hopeful that talks will achieve progress toward a future of peace and prosperity for the entire Korean peninsula," the statement read. "The United States appreciates the close coordination with our ally, the Republic of Korea, and looks forward to continuing robust discussions in preparation" for Trump and Kim's summit, expected to be held in May or early June.
Friday's summit may indicate whether peaceful negotiations to remove North Korea's weapons are possible. Expectations generally have been low as the North, which engaged in previous talks to denuclearize, has pulled out of such discussions.
While it's unclear whether Moon and Kim will make progress regarding the North's nuclear arsenal, advocates of engagement have said the only way to get a deal is to sit down for a talk, which Moon and Kim are scheduled to do, and see what's possible.
The Associated Press contributed to this report.