Kim Jong Un called missile launch 'meaningful prelude' to containing Guam, North Korea says
North Korea said its dictator Kim Jong Un was present Tuesday for a flight test of a midrange ballistic missile designed to carry a nuclear payload that flew over U.S. ally Japan and splashed into the northern Pacific Ocean.
The leader of the Hermit Kingdom has called for more ballistic missile launches into the Pacific — an apparent threat to the U.S. territory of Guam and a possible precursor to more missiles flying over Japan.
Kim expressed great satisfaction over what the North described as successful testing and said his country would continue to watch "U.S. demeanors" before it decided on future actions. He called the launch a "meaningful prelude" to containing Guam, which is home to key U.S. military bases that North Korea finds threatening, and said the country needs to conduct more missile launches into the Pacific to advance the capabilities of its strategic force, according to Pyongyang's official Korean Central News Agency.
The agency said Wednesday that the missile fired over Japan on Tuesday was the Hwasong-12 intermediate-range missile that the North recently threatened to fire into waters near Guam.
South Korea's Joint Chiefs of Staff said the missile traveled around 1,677 miles and reached a maximum height of 341 miles as it flew over the northern Japanese island of Hokkaido.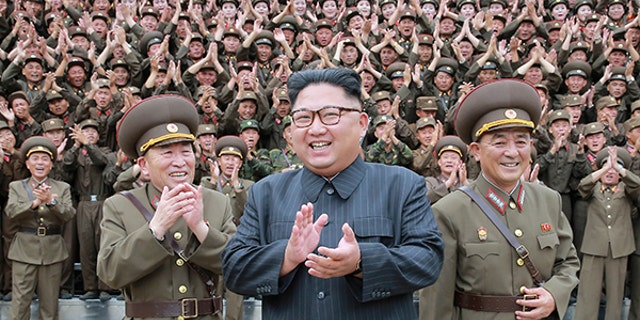 The U.N. Security Council said it "strongly condemns" North Korea's launch of the missile over Japan and is reiterating demands for Pyongyang to halt its ballistic missile and nuclear weapons programs.
The U.N.'s most powerful body approved the statement after an emergency meeting Tuesday on the missile test, calling North Korea's actions "outrageous."
The test came less than a month after the council imposed its toughest-yet sanctions on North Korea.
The statement doesn't discuss any potential new sanctions but calls for strict implementation of existing ones. The council also says it's committed to a peaceful, diplomatic and political solution to the situation.
North Korea isn't on the 15-member council.
President Trump said Tuesday that "all options are on the table" after North Korea launched the missile over Japan, an act that instantly renewed tensions in the region just days after the regime appeared to be backing down from threats against the U.S. and its allies.
OPINION: NORTH KOREA SHOWED THE WORLD HOW IT COULD START A WAR
"The world has received North Korea's latest message loud and clear: this regime has signaled its contempt for its neighbors, for all members of the United Nations, and for minimum standards of acceptable international behavior," said Trump in a written statement released by the White House.
"Threatening and destabilizing actions only increase the North Korean regime's isolation in the region and among all nations of the world. All options are on the table," the statement continued.
The Associated Press contributed to this story.