Kerry: 'No linkage whatsoever' between Iran nuclear deal and shared fight against IS militants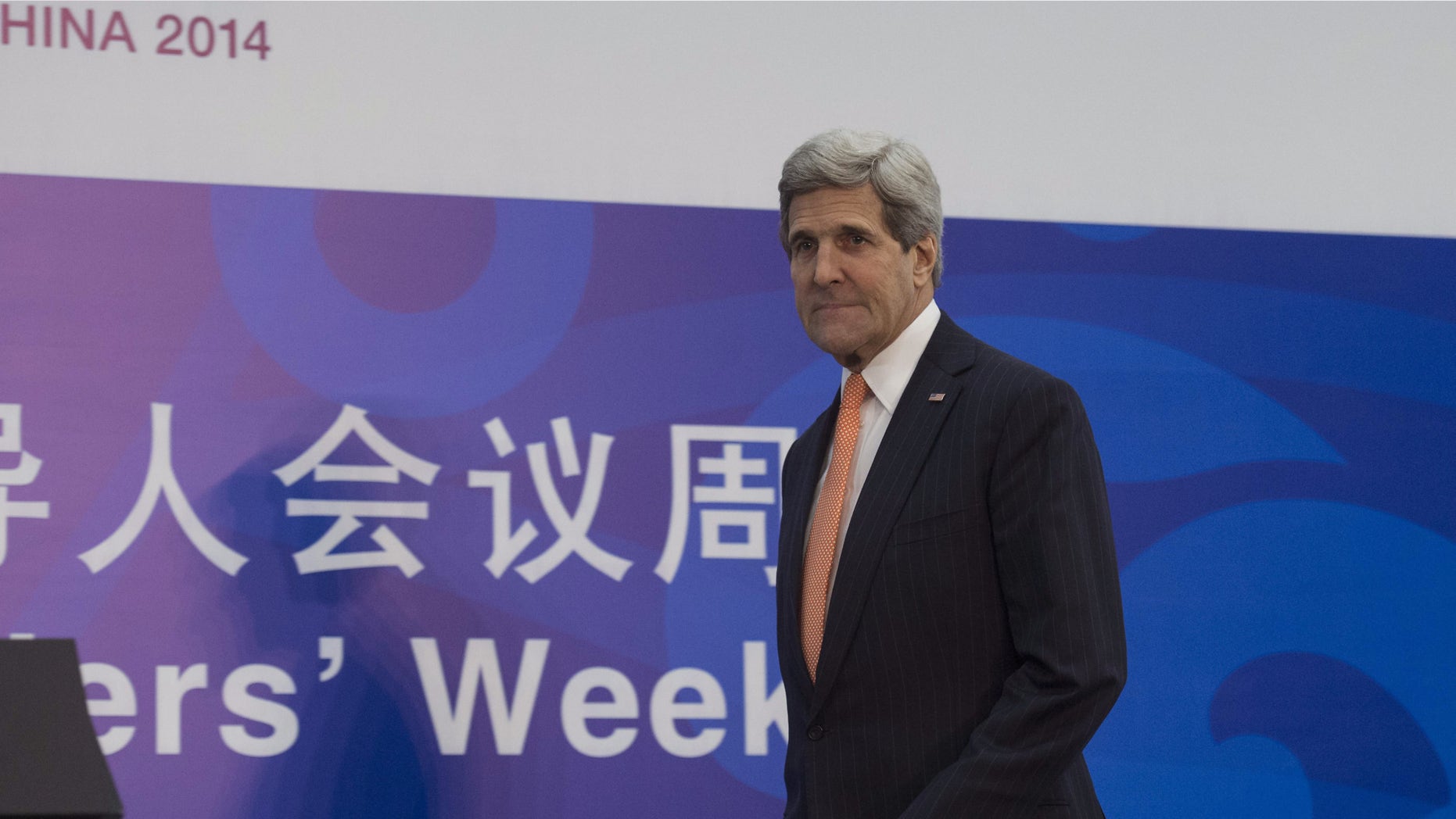 BEIJING – The top U.S. diplomat described "real gaps" Saturday in waning negotiations to limit Iran's nuclear program, but steadfastly denied that any deal struck would also bring a promise of stronger cooperation between Washington and Tehran on fighting Islamic militants.
Despite the urgency to end years of negotiations by a looming Nov. 24 deadline, Secretary of State John Kerry said that there was no linkage between the nuclear talks and even an indirect U.S.-Iran partnership to combat the Islamic State group that has ravaged much of Iraq and Syria.
He was referring to reports last week, which first surfaced in The Wall Street Journal, describing a recent letter from President Barack Obama to Iranian Supreme Leader Ayatollah Ali Khamenei suggesting a shared interest in fighting IS — but which would be largely contingent on Tehran agreeing to the nuclear deal.
"There is no linkage whatsoever of the nuclear discussions with any other issue," Kerry told reporters in Beijing, where he was attending the annual Asia Pacific Economic Cooperation conference.
"I want to make that absolutely clear. The nuclear negotiations are on their own. They are standing separate from anything else, and no discussion has ever taken place about linking one thing to the other, one involvement to the other, that I am aware of," Kerry said.
He would not confirm or deny the existence of the letter, which would represent a rare communication between the leaders of two nations that have been foes for a generation. More than any other White House in years, the Obama administration has sought to thaw relations with Iran since last year's election of President Hassan Rouhani, who is seen as a moderate leader and has made clear he wants to ease harsh economic sanctions the West has imposed against Tehran to punish its nuclear program.
Iran for years evaded international inspections in secretly built nuclear plants. It is now demanding global recognition for its right to generate nuclear power for energy, medical and other benign purposes.
But world powers — Britain, China, France, Germany, Russia and the U.S. — fear Tehran is trying to build nuclear weapons. As a result, the U.S., European Union and the United Nations imposed the bruising sanctions on Iran's oil and financial sectors that sent the country's economy into a tailspin. The two sides are now negotiating a potential agreement to limit Iran's nuclear production and ensure more transparent inspections in return for rolling back some of the sanctions.
This week's newspaper report infuriated Republican lawmakers who will take control of the Senate after Jan. 1, and who said the Obama administration had no business enlisting Iran in the fight against the Islamic State. Such cooperation could undercut simultaneous Mideast efforts to unseat Syrian President Bashar Assad, who has held onto power during a bloody three-year civil war largely with Tehran's help.
Kerry will meet Sunday with Iranian Foreign Minister Javad Zarif and European Union negotiator Catherine Ashton in the Omani capital of Muscat to try to plot the final weeks of talks before the deadline.
Discussing the negotiations with reporters in Beijing, he made clear a deal remains elusive.
"We are hopeful that over the course of the next weeks it will be possible to close real gaps that still exist in order to be able to reach an agreement," Kerry said.
A day earlier, the U.N. nuclear agency said it has been stymied in attempts to investigate whether Tehran worked on nuclear weapons in the past. The U.S. and five other world powers have said no final agreement will be reached until the International Atomic Energy Agency says it's satisfied with its inquiry.
With the IAEA investigation stalled, the agency has little hope of reaching final conclusions by Nov. 24.
Russian Foreign Minister Sergey Lavrov, however, struck a far more optimistic tone. Following a private meeting with Kerry in Beijing, Lavrov described "two or three outstanding issues" that still need to be resolved before the deadline.
"We have mutual determination, including with the Americans, to do all we can so as to complete everything within this timeframe," Lavrov said, according to the Russian news agency Interfax.