Kerry meets Venezuelan president amid escalating tensions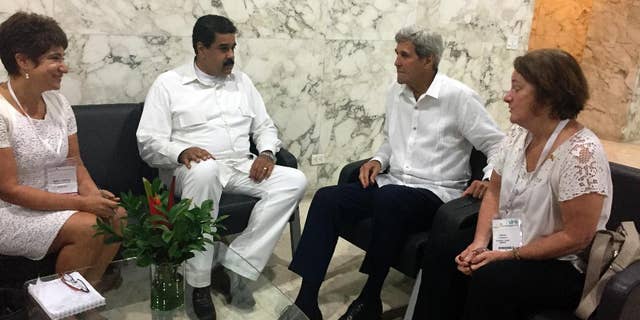 NEWYou can now listen to Fox News articles!
CARTAGENA, Colombia – Secretary of State John Kerry says he is "deeply concerned" about escalating political tensions in Venezuela as he holds his first official meeting with Venezuelan President Nicolás Maduro.
The two met in Cartagena, Colombia, Monday, following the Colombian government's historic peace signing with FARC rebels.
Ahead of the meeting, Kerry told reporters the U.S. is "very concerned for the people of Venezuela, for the level of conflict, starvation, lack of medicine" and the humanitarian situation.
Leading opposition politicians are demanding to hold a complex recall process on whether to cut short Maduro's term before it ends in 2019.
Kerry said delays to the recall have been "problematic," and says there needs to be "a way forward that can provide a consensus that provides relief to a nation under siege."