Kerry meets Abbas anew in bid to rescue Mideast peace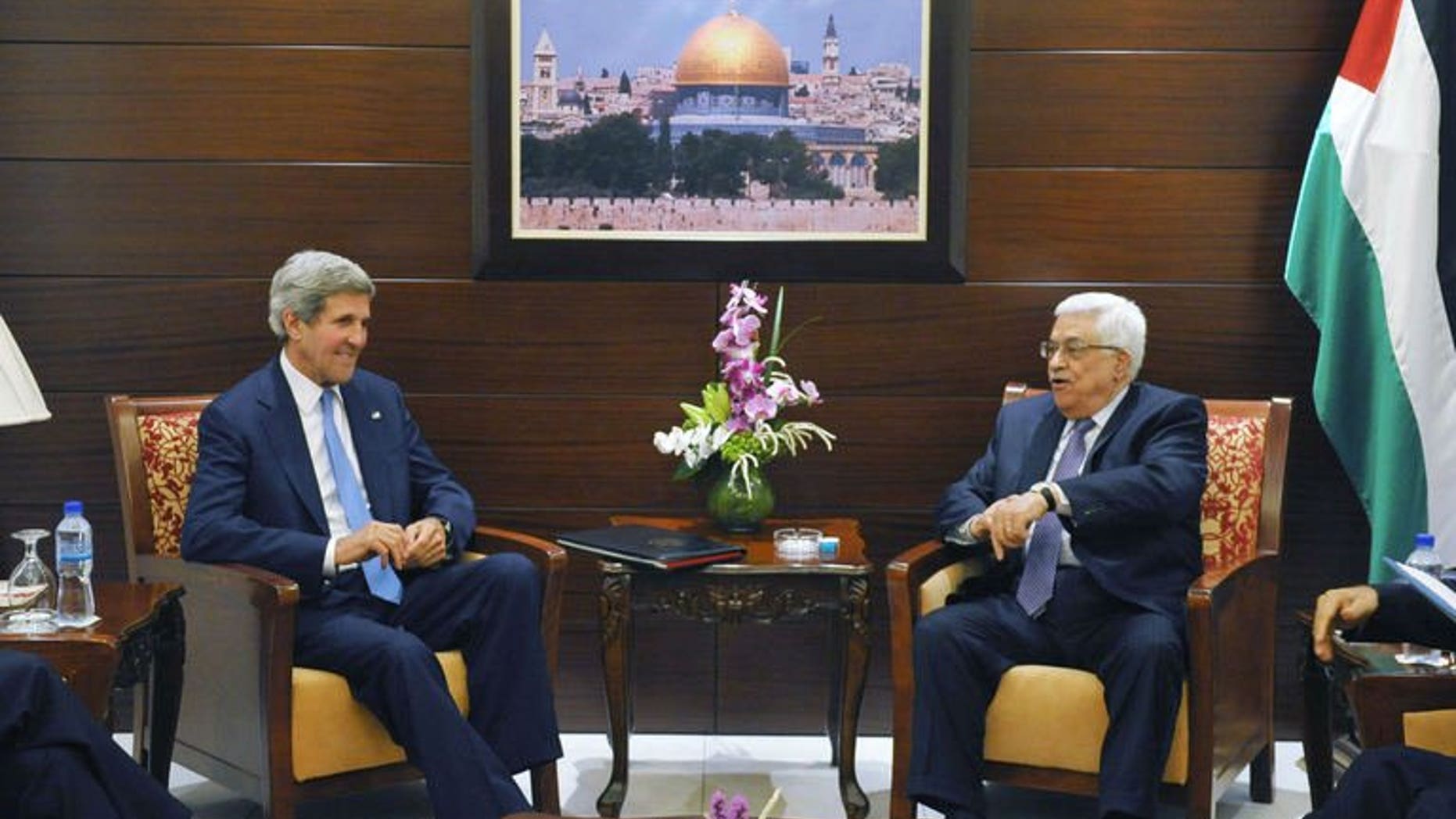 RAMALLAH (AFP) – US Secretary of State John Kerry flew by helicopter to the West Bank from Jordan on Friday to meet Palestinian president Mahmud Abbas as he battled to salvage his Middle East peace bid.
Kerry had spent four hours earlier on the phone talking to both sides before making the decision to dash to Ramallah to meet Abbas for the third time this week.
He landed in the courtyard of the Palestinian headquarters in one of two Puma helicopters lent by the Jordanian king.
Kerry had earlier Friday met twice with Palestinian chief negotiator Saeb Erakat in his Amman hotel.
The whirlwind diplomacy came after the Palestinian leadership in Ramallah rejected Kerry's proposals for a framework to guide the relaunch of peace talks with the Israelis stalled for nearly three years.
Erakat had planned to tell Kerry that a return to talks could not happen based on his plan, a Palestinian official told AFP ahead of their meetings.
"Erakat will inform Kerry that without a clear basis on the 1967 borders, a settlement freeze and a clear position on the release of Palestinian prisoners held by Israel, the Palestinian side thinks there will be no talks," he said.
Their first meeting lasted barely 45 minutes, but Kerry and Erakat then went back into talks which lasted more than an hour and half, State Department officials said.
Shortly after the second talks broke up, a Palestinian official told AFP that Kerry had decided to travel to the West Bank.
The setback to Kerry's peace push came from the governing Revolutionary Council of Abbas's own Fatah movement, which demanded changes to the US plan.
The broader Palestine Liberation Organisation, which also includes leftwing factions less sympathetic towards a compromise, said it was also drawing up a formal response to Kerry's proposals.
Talks have stuttered and started for decades in the elusive bid to reach a final peace deal between the Arab world and Israel.
But they collapsed completely in September 2010 when Israel refused to keep up a freeze on settlement building in Palestinian territories.
A State Department official said in a statement issued just after midnight that serious Palestinian debate over resuming talks was "appropriate and encouraging".
Kerry arrived on Tuesday in the Jordanian capital, where he held two rounds of talks with Abbas. He also won endorsement from the Arab League for his proposals to resume talks.
Kerry's plan would have seen Israel, now ruled by a coalition that has tilted sharply to the right after elections early this year, make only a tacit commitment to slow settlement construction in the occupied territories, not the publicly announced freeze long demanded by Abbas.
On Wednesday, the US envoy had expressed cautious optimism that he was making progress.
But he acknowledged that there were still differences over "the language" governing any resumption of talks.
It is the top US diplomat's sixth visit to the region since he took office in February, to try to broker a compromise to resume direct negotiations.
US President Barack Obama on Thursday urged Israeli Prime Minister Benjamin Netanyahu to resume talks.
"The president encouraged Prime Minister Netanyahu to continue to work with Secretary Kerry to resume negotiations with the Palestinians as soon as possible," the White House said in a statement, after the two leaders spoke by telephone.
An Israeli newspaper editorial pinned the blame squarely on the Palestinians for any setback in Kerry's peace push.
"The Palestinians again did what they do best: they shot themselves in the foot and then cried that it hurt," Alex Fishman wrote in Yediot Aharonot.
But commentator Shimon Shiffer, writing in the same paper, said the Israeli government presented just as much of an obstacle to peace.
"Netanyahu is today shackled with a coalition that makes it impossible for him to budge a millimetre," he wrote.
Kerry's latest peace bid has also been complicated by new European Union guidelines for its 28 member states that will block all funding of Jewish settlements.