Jodi Arias Details Her Boyfriend's Brutal Murder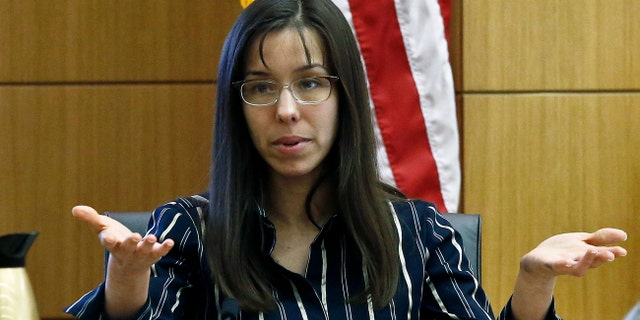 A crime of passion?
According to Jodi Arias, she can't remember how she killed her lover during a violent fight at his house nearly five years ago.
For the past week Arias has been on the witness stand recounting one intimate detail of her life after another. Salacious revelations of sexual antics. Tales of deviance, betrayal and bad decisions. An abusive childhood. Dead-end restaurant jobs, high school boyfriends, movies and cooking.
But finally on Wednesday, Arias got to the reason she was there in the first place: her confession that that she repeatedly stabbed her boyfriend Travis Alexander before slitting his throat and shooting him in the head.
In her testimony, Arias couldn't remember stabbing Alexander or even if she shot him.
Arias said she accidentally dropped a camera while taking provocative photos of her boyfriend in his shower. She said he flew into a rage over the camera and body-slammed her. He chased her around the house, and Arias grabbed a gun from his closet. She says it went off while they tussled.
Arias is trying to avoid the death penalty and a premeditated murder conviction. Prosecutors say she killed Alexander out of jealousy while the defense is hoping to elicit sympathy from jurors.
The defense attorneys are working to portray Alexander as a philanderer and hypocrite who in public led friends and family to believe he was a devout Mormon saving himself for marriage while simultaneously having sex with multiple women.
According to veteran criminal defense lawyer Michael Cardoza, there's a reason behind the defense's moves: to make the jury feel sorry for Arias and disgusted by the victim's antics.
"They're making it very difficult for the jury to put her to death because they're getting to know her," Cardoza said. "The job of the defense at this point isn't to walk her out of the courtroom. Their job is to keep her from getting the death penalty."
The result has been a provocative courtroom drama made for tabloid headlines as the public watches the trial through real time web feeds that have seen huge spikes in traffic, especially on a day when jurors heard a lurid phone sex chat between Arias and Alexander.
"It really taxed our servers. We got an incredible amount of traffic that day," said Michael Williams, chief technology officer at www.wildabouttrial.com, a website and mobile app devoted to criminal trial coverage.
Arias, 32, claims Alexander battered her into submission, and finally, forced her to fight for her life in self-defense. Prosecutors say she killed Alexander in a jealous rage.
In graphic detail, Arias has described for jurors instances of physical abuse at the hands of Alexander. She said he belittled her and admitted to having sexual desires for young boys. She has spent an equal amount of time detailing her own troubled life, from an abusive childhood to her religious beliefs to the minutia of ex-boyfriends and car problems.
She broke down in tears, her head slumped over, as she sat on the witness stand and listened to the hour-long phone sex recording played for jurors in open court, as Alexander's family winced in the gallery and her own mother sat emotionless across the room. The judge warned observers of the explicit nature of the tape prior to playing it, and offered everyone a chance to leave. No one did.
Cardoza said he's never heard anything so salacious in a courtroom.
"This tops it all, absolutely tops it all," he said.
The trial has been crawling along as each day is interrupted by multiple objections and private bench conferences, something experts say is by design as Maricopa County Superior Court Judge Sherry Stephens, a former Arizona assistant attorney general, wants to be certain the record is clean of anything that could be used on appeal.
"The ferocity of the killing is just so staggering," said Phoenix defense attorney Mel McDonald, a former judge and federal prosecutor. "It's just so poisonous, the acts of the killing, that I think the judge is doing everything to give Jodi Arias' attorneys great latitude, and I think it's an absolutely savvy decision. ... The state is asking for the ultimate penalty of death, after all."
But as Arias demonizes the victim, there's been little more than her words to back up anything.
She never called police or went to a hospital for injuries she claims she suffered at Alexander's hands, and jurors have yet to hear from any witnesses or view any evidence establishing a history of the victim's violence or supposed interest in child pornography. She is likely to face a withering cross-examination from the prosecution next week.
The trial began in early January with the prosecution making quick work of its case, a seamless and largely chronological story laid out for jurors in simple detail: Arias is a murderer, a jilted lover who planned the attack on Alexander in a jealous rage. She stabbed and slashed him 27 times, slitting his throat and shooting him in the head in a final salvo of savagery.
The sheer brutality of the attack is difficult enough for defense lawyers to explain away in a case where the defendant claims self-defense. There are also the lies. Arias initially told authorities she wasn't there. She later blamed it on masked intruders. Eventually, she settled on self-defense, claiming Alexander attacked her in his suburban Phoenix home.
Investigators also say Alexander was shot in the head with a .25 caliber gun, the same caliber Arias' grandparents reported stolen from their Northern California home about a week before the killing. No weapons have been recovered, and Arias hasn't explained what she did with them.
"She can say whatever she wants, but Travis isn't here to speak for himself," said Julie Haslem, a friend of Alexander who has been watching the trial. "It's bad enough that she took his life. Now she's trying to take his reputation, too."
Based on reporting by the Associated Press.
Follow us on twitter.com/foxnewslatino
Like us at facebook.com/foxnewslatino