Jewish journalist gets hate on videotape as he strolls streets of Paris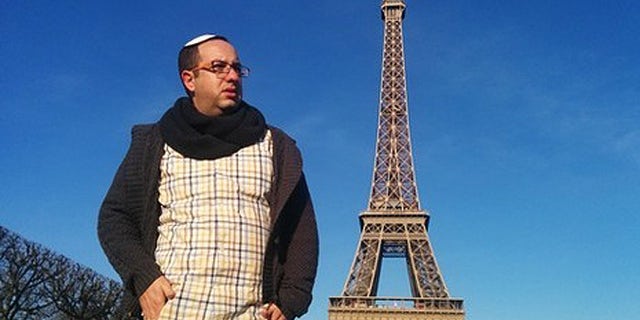 Days after a gunman in Copenhagen opened fire on a synagogue and a free speech event, killing two, a video uploaded to YouTube shows a Jewish journalist walking around Paris in traditional Jewish garb, secretly recording a barrage of anti-Semitic hatred, threats and epithets -- many from Muslims, including a little boy who asks his hijab-clad mother: "Doesn't he know he will be killed?"
The video was patterned after a viral video taken by a New York woman in which she captured catcalls, unwelcome flirtations and leering of men around the city. But instead of sexual harassment, Zvika Klein, of the Jewish media outlet NRG, caught threats and epithets from Parisians, including one child.
"What is he doing here Mommy?" a little boy asked his mother, who was wearing a Muslim headscarf, or hijab, as Klein strolled through a public housing neighborhood. "Doesn't he know he will be killed?"
Older men were recorded telling Klein, "Go f--- from the front and the back," "Viva Palestine" and "Hey you, with the kippa, what are you doing here?"
The video was posted online just days after Israeli Prime Minister Benjamin Netanyahu advised European Jews, under increasing threat of hateful attacks, to emigrate to Israel. In recent days, hundreds of Jewish graves were desecrated in a French cemetery and a gunman carried out two deadly attacks at Jewish facilities in Copenhagen in an attack authorities say may have been inspired by last month's terror attacks by Islamic extremists in Paris that killed 17 people.
French President Francois Hollande angrily responded to Netanyahu's call with a vow to keep Jews safe in his country.
"What is he doing here Mommy? Doesn't he know he will be killed?"
"We know there are doubts, questions across the community," Hollande said Monday. "I will not just let what was said in Israel pass, leading people to believe that Jews no longer have a place in Europe and in France, in particular."
French Prime Minister Manuel Valls said the government would defend French Jews against what he described as "Islamo-fascism."
But in the NRG article, Klein wrote that Paris is no longer a welcoming home for Jews.
"Welcome to Paris 2015, where soldiers are walking every street that houses a Jewish institution, and where keffiyeh-wearing men and veiled women speak Arabic on every streetcorner," wrote Klein. "Walking down one Parisian suburb, I was asked what I was doing there. In modern-day Paris, you see, Jews are barred from entering certain areas."
Klein, wearing a tzitzit and a kippa, recorded the footage over 10 hours, walking the streets and suburbs of Paris with a photographer who documented interactions using a GoPro camera hidden in his backpack. Their daylong trek took them past the Eiffel Tower and Champs Elysees, through Jewish neighborhoods and then through the mostly Muslim enclaves.
"Areas known as tourist attractions were relatively calm, but the further from them we walked, the more anxious I became over the hateful stares, the belligerent remarks, and the hostile body language," wrote Klein. "At times it was like walking in downtown Ramallah," he wrote, referring to the Palestinian city in Israel's West Bank.
In one Muslim neighborhood, the men entered an enclosed marketplace and felt stares burning into them.
"Look at him!" a merchant shouted. "He should be ashamed of himself. What is he doing walking in here wearing a kippa?!"
But another merchant answered the hateful exclamation with a defense of Klein.
"What do you care? He can do whatever he wants," the other merchant answered.