Israeli leader declines to rule out possibility of providing arms to Syrian rebel groups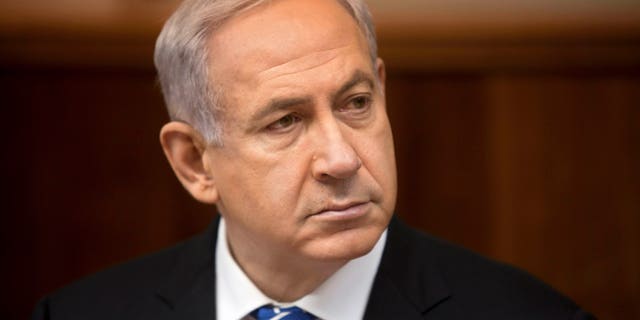 JERUSALEM – Israel's prime minister declined to rule out the possibility of providing arms to Syrian rebel groups, saying in a television interview broadcast Thursday that the decision of whether to intervene in the neighboring civil war is a "complicated question."
Although Benjamin Netanyahu made no clear commitments, his comments indicated that he is at least considering a shift away from two years of neutrality in the Syrian civil war that pits rebels against President Bashar Assad's regime. Key Israeli allies, including the U.S. and Jordan, already have begun assisting secular and moderate factions inside Syria despite fears that Islamic extremists are gaining influence among the rebels.
Netanyahu was discussing the deteriorating security situation in Syria on BBC World News when the interviewer asked whether Israel is arming any of the rebel groups. Netanyahu said he could not confirm such speculation but did not deny it.
"We are very careful," he said. "I have said that the arming of rebels presents the question of which rebels and which arms, and it is a very complicated question for every country, including my country Israel."
Israel has been warily watching the fighting in Syria since the uprising against Assad erupted in March 2011. Although Assad is a bitter enemy, Israel has been careful not to take sides, in part because the Assad family has kept the border with Israel quiet for the past 40 years and in part because of fears of what will happen if he is toppled.
Israeli officials are especially concerned that Assad's stockpile of chemical weapons and other advanced arms could reach the hands of Hezbollah guerrillas in Lebanon or other hostile groups in the region. As Assad's position has weakened, Israeli leaders have grown increasingly concerned that some of the groups trying to topple him, particularly extremist factions linked to al-Qaida, will turn their guns toward Israel.
"There are the worst Islamist radicals in the world, so obviously we are concerned that weapons that are ground breaking, that can change the balance of power in the Middle East would fall into the hands of these terrorists," Netanyahu said.
In January, Israel all but confirmed that it carried out an airstrike in Syria that destroyed a shipment of anti-aircraft missiles allegedly bound for Hezbollah, a powerful militia that battled Israel to a stalemate in a monthlong war in 2006. In the BBC interview, Netanyahu refused to confirm whether Israel targeted the convoy, but noted that Israel "has the right to act" to halt weapons transfers.
Direct Israeli support for any of the factions fighting inside Syria would be risky. Any group seen as being aligned with Israel could have its credibility harmed. Israel could also provoke a backlash from other dangerous factions, including the government, embroiled in the Syrian violence. More than 70,000 people have already died in the fighting, according to U.N. estimates.
Moshe Maoz, a Syria expert at the Hebrew University in Jerusalem, said it would make sense for Israel to supply moderate Syrian rebel groups with arms in coordination with Turkey, though he said it is unclear whether that has begun. Israel has recently moved to repair its strained ties with Turkey, and Maoz said both countries have an interest in propping up "mainstream" Muslim groups and countering the influence of Iranian-backed extremists.
"Israel has to signal to the Muslim world that Israel joins them in the struggle against a common enemy Iran," he said. "Maybe Netanyahu is going in that direction."
Netanyahu gave the interview on Wednesday during a trip to Britain, where he attended the funeral of Prime Minister Margaret Thatcher and met with the current prime minister, David Cameron.
Netanyahu gave few details about the meeting, saying only that Israel and Britain "see eye to eye" about preventing further bloodshed in Syria. "It's a complicated picture because you have bad fighting the bad," he said.
But Israel may feel it has no choice. In recent months, it has coped with a string of stray gunfire and mortar shells flying out of Syria into the Israeli-controlled Golan Heights.
Israeli military officials believe most of the fire has been spillover from internal fighting. But in several cases, Israel determined the attacks were intentional and quickly struck back at targets inside Syria. Israel has also treated a small number of Syrians who were wounded in fighting near the Israeli frontier.
Eyal Zisser, an expert on Syria at Tel Aviv University, said he "doubts very much" that Israel is currently arming rebels. But he said Israel would likely help if approached by the West.
Israel would likely back secular fighters such as the groups being trained by the U.S. in neighboring Jordan, or secular and moderate Islamic factions under the Turkey-based Free Syrian Army umbrella group headed by Gen. Salim Idris.
Idris is seen as a secular-minded moderate. But he is believed to have only limited control over the dozens of brigades and battalions inside Syria. Many of these groups are Islamist-leaning factions that have little coordination with each other and are often in rivalries. Some extremist groups, including Jabhat al-Nusra, have rejected his authority.
Israeli officials have said in recent months that they do have ties with pro-Western elements in the Syrian opposition. One official involved in those efforts said the contacts are continuing, but discussions have only been on the "political," not military level. He spoke on condition of anonymity because he was discussing a covert diplomatic issue.
In a sign of Israeli concerns, Netanyahu has made several covert trips to neighboring Jordan in recent months. Israeli officials have given few details about the visits, and Jordan has not commented. But Jordan is Israel's closest ally in the Arab world, and both countries have a joint interest in containing any threats in Syria.
U.S. and other Western and Arab officials say that Jordan has recently been facilitating arms shipments and hosting training camps for Syrian rebels since last October.
American and foreign officials have told The Associated Press that the U.S. has been training secular Syrian fighters in Jordan with the aim of strengthening the hand of moderates among the country's fractured opposition.
On Wednesday, U.S. Defense Secretary Chuck Hagel told Congress that the Pentagon is sending about 200 soldiers from an Army headquarters unit to Jordan to assist efforts to contain violence along the Syrian border and plan for any operations needed to ensure the safety of chemical weapons in Syria.
___
Associated Press writers Zeina Karam in Beirut and Jamal Halaby in Amman, Jordan, contributed to this report.