Israel, Palestinians urge UN to help restore calm in Middle East
In the wake of escalating tension between Israel and the Palestinian Authority, representatives of both countries called for the United Nations to help restore calm to the region.
Despite Israel's decision Monday night to remove metal detectors from an area known to Israelis as the Temple Mount and by Palestinian as the Al Haram Al Sharif, Palestinians reject proposed changes in security. Earlier this month, two Israeli border policemen were killed by Arab Israeli attackers at the site that is home to the Al Aksa Mosque. It is an area considered holy to both Muslims and Jews.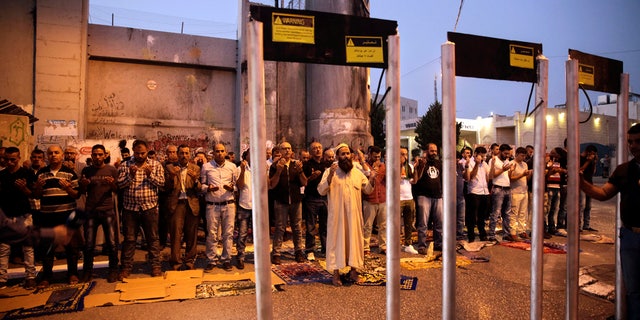 ARAB GUNMEN KILL 2 ISRAELI POLICEMEN AT JERUSALEM SHRINE
The Palestinian Authority's UN representative, Riyad Mansour, told the Security Council "de-escation is urgent." He accused Israel of "provocative violations of the historic status quo."
Mansour said Israel had aggravated religious sensitivities to the point of eruption.
Mansour did not mention last week's knife attack by a Palestinian that left three Israelis dead at a West Bank settlement. He told the council Palestinians are "an unarmed and defenseless people." The attacker's father said his son launched the rampage because he wanted to protect the honor of the Al Aksa Mosque.
Israel's UN ambassador, Danny Danon, called the attack at the Halamish settlement an atrocity "that did not happen in a vacuum." He accused the Palestinian leadership of inciting violence. He said "Israel's top priority is to maintain the safety and security of all Temple Mount visitors."
JERUSALEM VIOLENCE LEAVES THREE DEAD, CLOSE TO 400 INJURED
Sitting behind Danon as he spoke was Oran Almog, who was blinded and suffered other serious injuries when a Palestinian suicide bomber blew herself up in 2003 at a restaurant in the Israeli city of Haifa. Danon said the bomber's family and her accomplices received more than half a million dollars in "total terror payments" from the Palestinian Authority.
Danon said the Palestinian Authority in 2016 spent more than $300 million rewarding "mass killers with innocent blood on their hands." He said the Authority spends more on paying terrorists than on higher education. He told the council almost 30 percent of foreign aid meant for humanitarian purposes ends up in the hands of terrorists and their families.
U.S. United Nations ambassador Nikki Haley briefly addressed the council on the recent violence and tension at the Temple Mount.
"It is vital," she said, "both access and security is ensured."