ISIS kidnaps more than 300 Syrian workers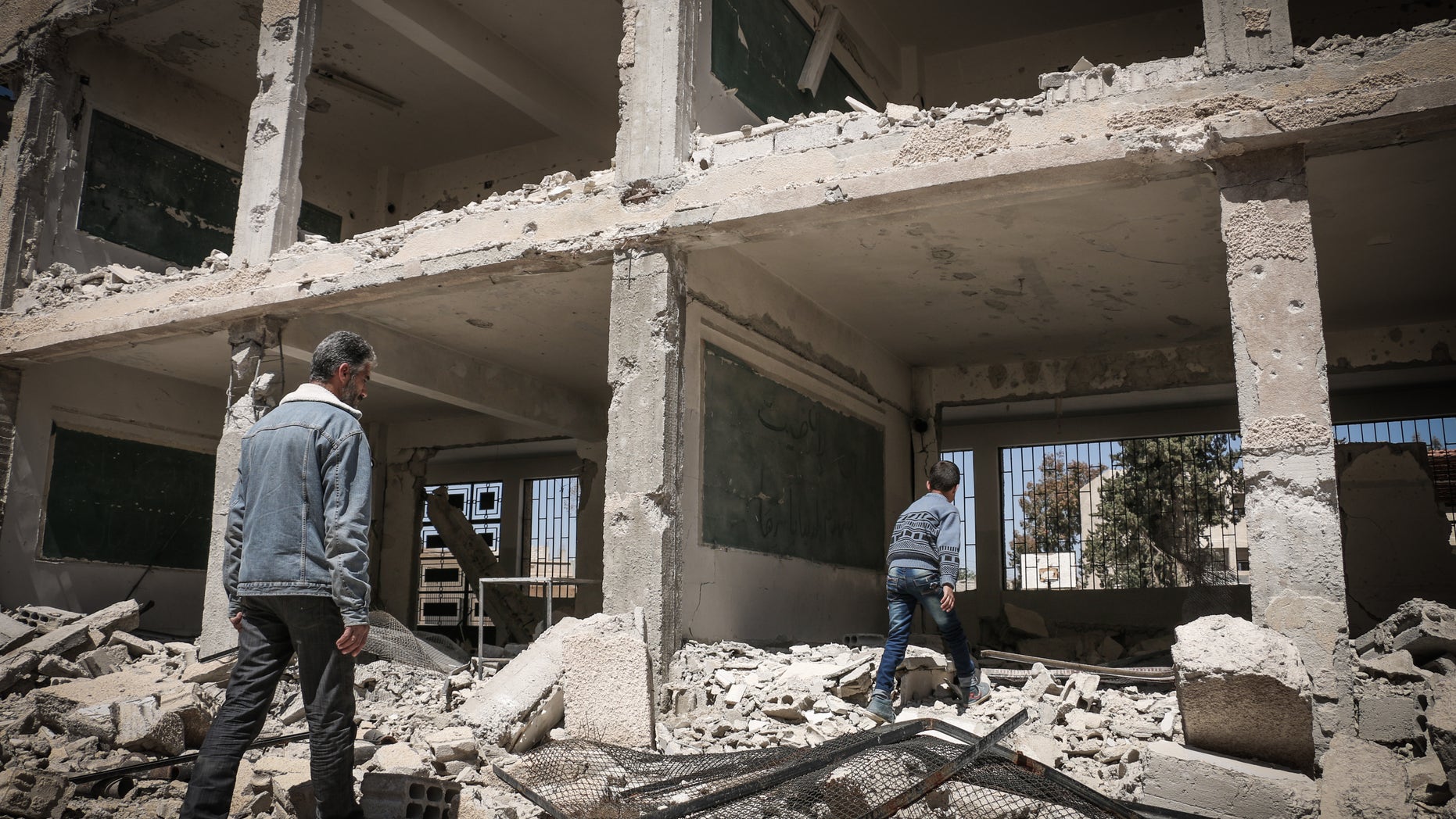 The Islamic State terror group has kidnapped more than 300 workers at a Syrian cement company, witnesses and state TV reported Thursday.
The al-Badia Cement Company reportedly has its headquarters northeast of Damascus, where ISIS had launched a surprise attack on government troops earlier this week.
Syrian officials said the employer lost all contact with the workers and contractors. They said the kidnapping unfolded near the town of Dumeir, some 25 miles outside Syria's capital.
A company spokeswoman declined to discuss the kidnapped workers' fate, saying authorities had told the firm to keep quiet. "The situation is not easy at all," she told The Associated Press.
The ISIS-linked Aamaq agency posted a video showing the deserted cement factory, located near a military air base. The video showed what appeared to be a Syrian soldier lying on the ground, apparently dead. One militant is seen driving a truck, towing away a fork lift.
Islam Alloush a spokesman for the Army of Islam rebel group which has a strong presence in Dumeir, told the AP Islamic militants attacked five targets in the town, including other insurgents' positions near the airport. They also seized control of the factory, kidnapping hundreds of its workers.
He said his group had managed to secure some workers who got away, but the fate of the kidnapped workers was not known. Alloush added that the town is densely populated, making their ability to maneuver difficult.
Mass abductions have taken place on occasion in Syria during the country's devastating civil war, now in its sixth year, most often targeting religious minorities or Syrian soldiers.
Also Thursday, Syrian rebels and allied Islamic groups advanced into ISIS strongholds in southern and northern Syria undermining the group's hold of a border crossing with Turkey, activists report. Various factions of the Free Syrian Army entered the ISIS-held town of al-Rai, in northern Aleppo province along the border with Turkey, according to activist Bahaa al-Halabi.
The Syrian army reportedly launched a push Tuesday night aimed at retaking the village of Tel al-Ais, which overlooks the Damascus-Aleppo highway. The village was captured on Monday by rebels allied with Al Qaeda's affiliate in Syria, the Nusra Front.
The fighting outside Aleppo, the country's second-largest city, has been the worst since a partial cease-fire agreement came into effect in late February and has threatened to completely derail the agreement, which greatly reduced overall violence in Syria.
The fighting pits Syrian government forces and allied Lebanese Hezbollah militiamen against militants, including the Nusra Front. The recent truce excludes both ISIS and the Al Qaeda branch.
The Associated Press contributed to this report.