Is Colombia Losing Its War Against Rebels and Drugs Gangs?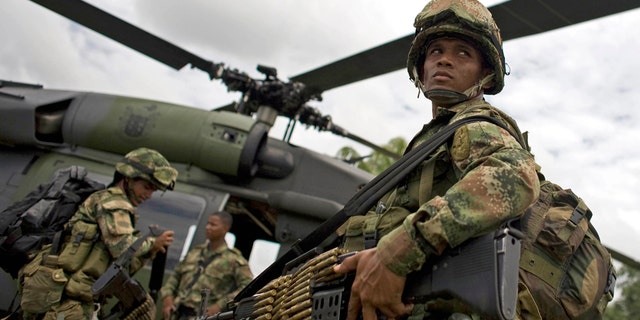 A deteriorating security situation across Colombia has the Andean nation scrambling to find new ways to wage its decades-long civil war against the left-wing insurgent FARC (Revolutionary Armed Forces of Colombia), as well as right-wing paramilitary groups and drug gangs.
Recently, President Juan Manuel Santos announced that his entire military command was replaced with the exception of the national police director. The radical change follows ongoing criticism of increasing violent incidents across the country.
The FARC has ramped up its campaign of violence, with some NGOs estimating that almost 170 attacks were staged this year in one state alone. While the majority of Colombians interviewed by a Gallup poll say that the situation with guerilla groups is not going well, Santos believes that the attacks are a sign of their weakness and exemplifies how they will do anything to get attention.
But others in the political spectrum say that's not the case. "The FARC is actually reorganizing," says Leon Valencia, director of Fundación Arco Iris, a NGO who does research on guerilla warfare. "They have a new structure and a new strategy that has given them good results."
Valencia Speaks of the emerging tactics of leftist groups who are separating into smaller fronts and using non-conventional weapons like car bombs and land-mines to kill Colombian forces.
And their new success is very apparent in the statistics. For example, last year there were a total of 2,540 deaths and injuries caused by FARC unrest. That is actually a higher number than the amount which resulted from the nation's hard-fought clashes with the guerillas in 2003, when then-President Alvaro Uribe originally enacted his zero-tolerance democratic security policy and hit them with a long, drawn-out military campaign.
It's undeniable that Colombia has had many successes in its civil war, creating a safer environment for its people and dealing some hard blows to the enemy. The most successful one was 2008's "Operación Jaque," (in English "check," as in checkmate) an elaborate rescue that resulted in the freedom of the FARC's most prized hostage, former presidential candidate Ingrid Betancourt and 3 American servicemen. After that famous moment, many said that the guerilla group could never again be at full strength and was almost completely defeated. But that may have been a premature celebration.
"The army thought that they were actually finishing with the FARC and they were going to vanish," explains Valencia. "That prevented them from realizing the reality of what was going on inside the organization. Lots of changes were happening."
With already 1100 new attacks this year on record up until the month of June, the FARC could easily surpass last year's number of between 1500 and 1700. Furthermore, the country is in a political year and people here are preparing to go to the polls in October to vote in local elections. Historically, these are years that see an increase in violence.
Along with the possibility that the government could have taken its eye off the enemy, the FARC has become even more resourceful as it tries to influence social movements and do heavy recruiting. "The guy with the gun now is less powerful than the people in militias who are influencing social movements," says Valencia.
"On one hand, the guerrillas have been transformed. On the other hand, they're putting more focus on conquering the [hearts and minds of the] population."
In addition to the battle with the FARC, the Colombian government is also fighting paramilitary criminal gangs that continue to expand across major cities and are involved in drug-trafficking, murder and kidnapping. These criminal organizations also have allegedly connected themselves with organized crime outside of the country.
So as Colombia tries to protect its new-found reputation as a safe place for tourists, it must also focus more of its attention on trying to stop the violence that not so long ago gave it a lawless reputation.
David Noto is a freelance journalist for Fox News Latino in Colombia.
Follow us on twitter.com/foxnewslatino
Like us at facebook.com/foxnewslatino