Iranian leaders blast US over nuclear agreement, demand lifting of sanctions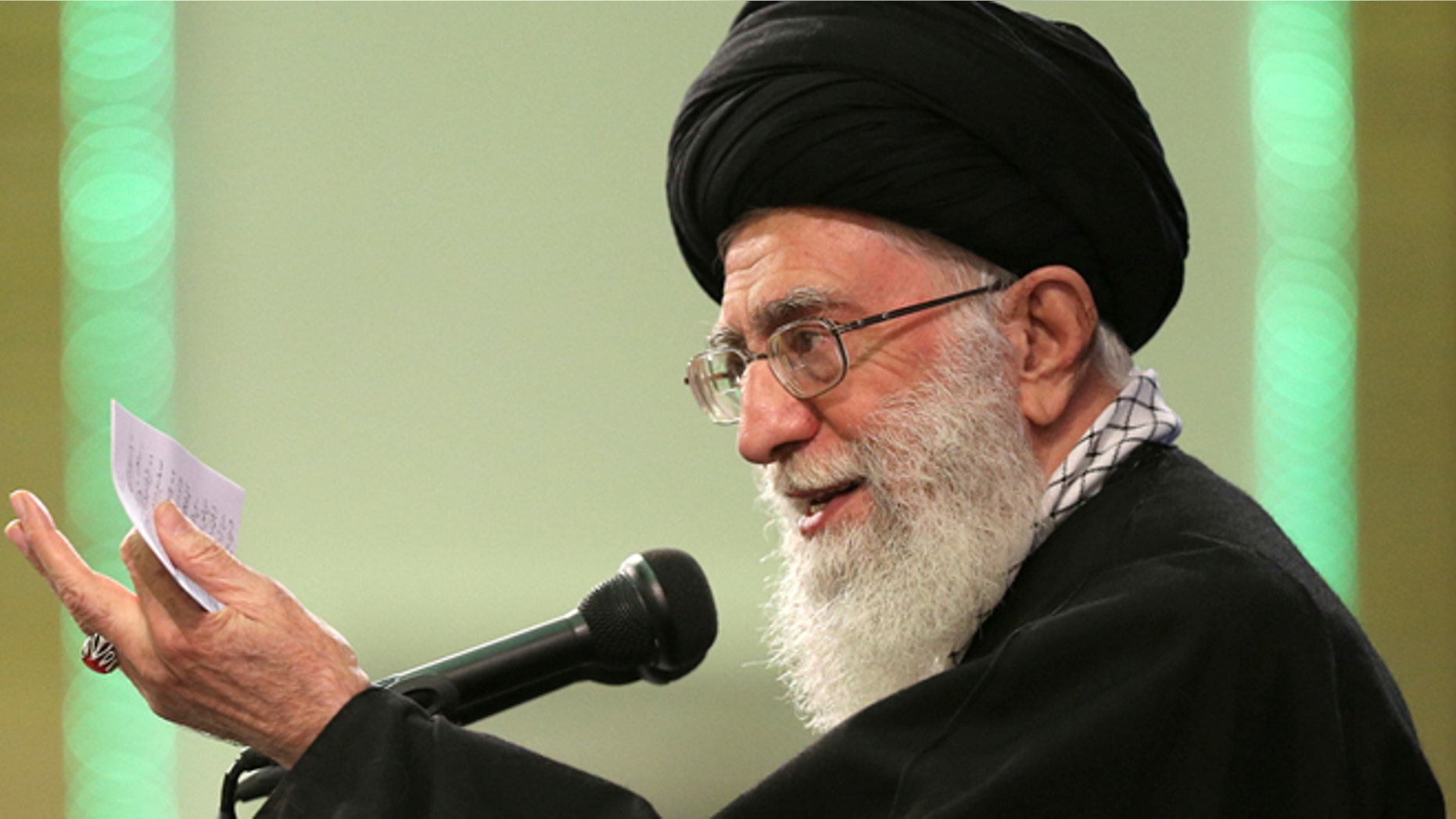 Iran's top leader blasted the United States on Thursday for its claims about the framework nuclear deal struck last week, as he and the country's president both demanded that any final deal immediately lift all sanctions.
The comments by Supreme Leader Ayatollah Ali Khamenei and President Hassan Rouhani, taken together, could raise fresh doubts about the course of the nuclear talks.
While it was expected that Iran's leaders would position the agreement as a win for their country, both leaders on Thursday made demands that the U.S. has resisted.
"We will not sign any agreement, unless all economic sanctions are totally lifted on the first day of the implementation of the deal," Rouhani said during a ceremony marking Iran's nuclear technology day, which celebrates the country's nuclear achievements.
The Ayatollah, too, said all sanctions should be removed when a deal is reached.
His Twitter account, which sent out a cascade of tweets with highlights from his remarks Thursday, also said: "I trust our negotiators, but I'm really worried as the other side is into lying & breaching promises."
The messages from the Ayatollah appeared to indicate he was keeping an open mind about talks; he neither endorsed nor rejected the framework deal. But he challenged the way the U.S. was describing that agreement – a fact sheet put out by the White House said sanctions would be removed only after inspectors verify Iran's compliance with the plan.
The Ayatollah, in one tweet, claimed this was "contrary to what was agreed."
"The disloyal side may want to stab #Iran in the back over the details; It is too early to congratulate," another tweet read.
Iran and six world powers agreed last week in Switzerland on a framework deal, which is meant to curb Iran's bomb-capable technology while giving Tehran quick access to bank accounts, oil markets and financial assets blocked by international sanctions.
The sanctions have had a crippling effect on Iran's economy. Since 2012, the sanctions have reduced Iranian exports of oil by nearly 1.5 million barrels per day – around 60 percent of its production – to around 1 million barrels per day, Reuters reports.
President Obama on Thursday -- speaking in Jamaica, where he visited in advance of a summit in Panama – continued to defend the deal framework.
"But as I've said from the start, this is not done until it's done," Obama said. He said the next few months will be "critical."
The West has long feared Iran's nuclear program could allow it to build an atomic bomb and that Tehran has used uranium enrichment -- the key aspect point in the negotiations and a possible pathway to nuclear arms -- to pursue nuclear weapons. Iran denies the charge, saying its nuclear program is for peaceful purposes only, such as power generation and cancer treatment.
A senior Israeli defense official repeated his nation's fears Thursday that Iran could still obtain a nuclear weapon if sanctions were lifted immediately, and would have additional fund to arm regional groups.
"The moment the sanctions are removed, tens of billions [of dollars] will flow to their coffers," Amos Gilad said in a radio interview following Rouhani's speech, according to Reuters. "They will get rich. They will have the power to support the entire network of missiles and rockets."
Iran's top leader also cautioned that the six world powers -- five permanent U.N. Security Council members and Germany -- are "not to be trusted" and may try "to limit Iran" in further talks.
A lot remains to be done until the deal is finalized, Khamenei said, adding it may take more than three months.
If the deal is successfully finalized, Khamenei added it would show that negotiations are possible on other issues beyond the nuclear program. But the talks in Switzerland "are only about nuclear case," he said. "We do not have talks with the United States on any other issue, for the time being."
Khamenei also urged Iranian negotiators not to accept any "unconventional inspections" of Iran's nuclear facilities -- presumably meaning sudden or unannounced inspections -- and stressed that inspections of military facilities would not be permitted.
"No way, we should not allow them to infiltrate security and defensive installations," said Khamenei.
The Associated Press contributed to this report.