Iran extends voting deadline in presidential election, first since nuclear deal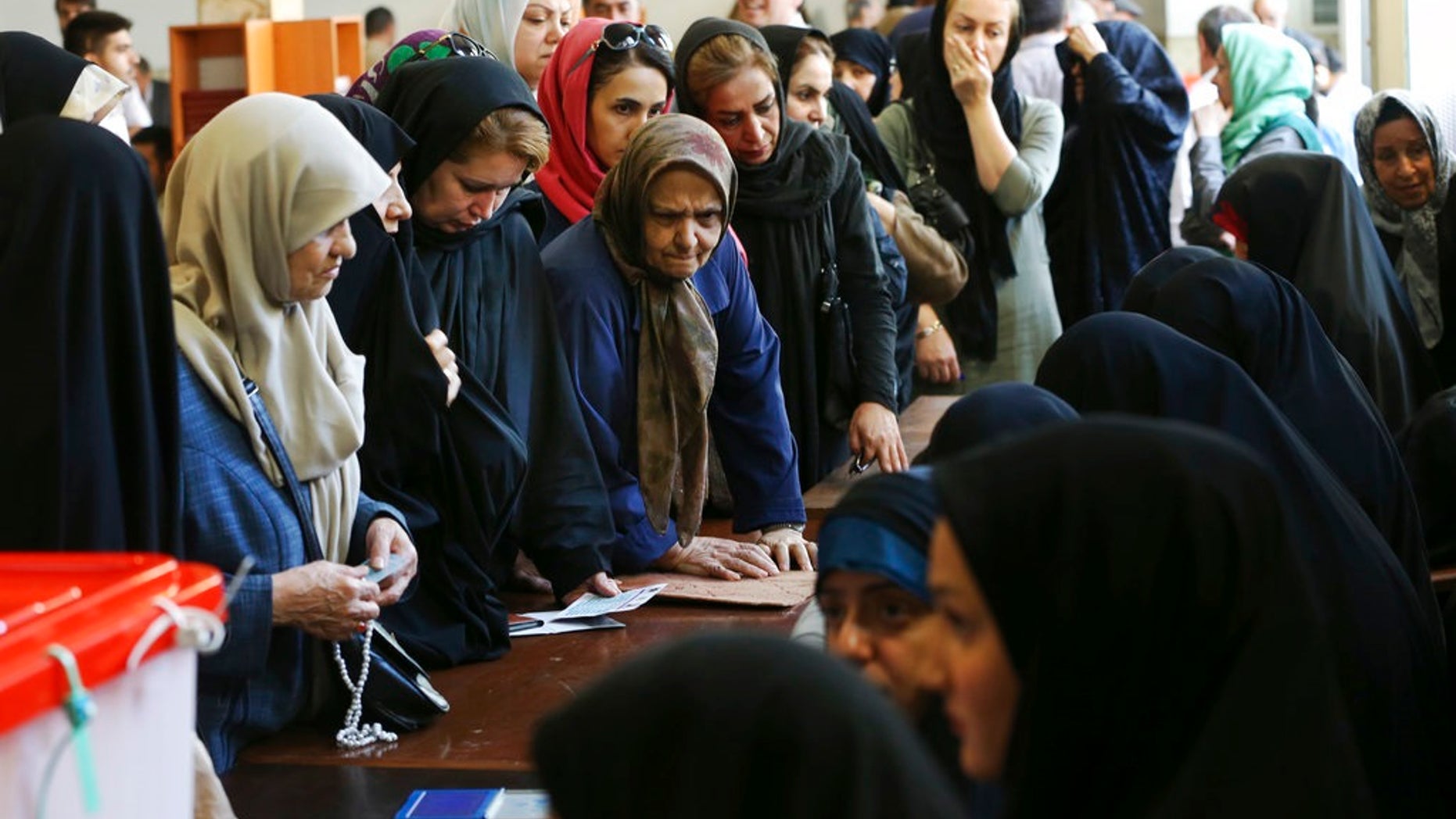 Iranians continued to cast their ballots and vote into the evening Friday in the country's presidential election — the first since the country struck a nuclear deal with world powers.
President Hassan Rouhani, 68, who is seeking a second term, faces three challengers, including hardline cleric Ebrahim Raisi, 56.
The election is being widely viewed as a referendum on the 2015 nuclear deal led by Rouhani's administration. The deal saw Iran limit its enrichment of uranium in exchange for the lifting of some economic sanctions.
Iran since has resumed crucial oil exports to Europe and concluded billion-dollar deals to purchase passenger planes, but the effects have yet to trickle down to most Iranians, creating an opening for hardliners who feel Rouhani gave too much away.
Election officials have twice extended the voting deadline beyond the anticipated 6 p.m. closing time to accommodate the large numbers of voters. Polls now are expected to close at 10 p.m.
A LOOK AT IRAN'S PRESIDENTIAL CANDIDATES
Supreme Leader Ayatollah Ali Khamenei, Iran's most powerful man and decision maker, symbolically cast the importance of the election's first vote and asked Iranians to go out and vote.
"Elections are very important and the fate of the country is in the hands of all the people," Khamenei said.
Analysts have suggested that a high voter turnout will help Rouhani win a second four-year term. Also, no incumbent president has failed to win reelection since 1981.
"Any candidate who is elected should be helped to accomplish this heavy responsibility," Rouhani said. "Anyone who is elected must be helped from tomorrow with unity, happiness and joy."
The three candidates running against Rouhani are Raisi, a cleric and former attorney general, Mostafa Hashemitaba, a pro-reform figure who previously ran for president in 2001, and Mostafa Mirsalim, a former culture minister.
AS IRAN VOTES, 4.1 MAGNITUDE EARTHQUAKE HITS NORTHERN REGION
Raisi is believed to be Rouhani's toughest challenger. He is seen by many as close to Khamenei, and he's been discussed as a possible successor to him, but Khamenei has not endorsed anyone.
Authorities are worried about tempers rising, especially after the 2009 reelection of hardline President Mahmoud Ahmadinejad, who was barred from running in Friday's election. The reelection lead to unrest, mass arrests and killings. The political unrest that unfolded was the worst the country had seen since the 1979 Islamic revolution.
The race has heated emotions and pushed public discourse in Iran into areas typically untouched in the tightly controlled state media. That includes Rouhani openly criticizing hardliners and Iran's powerful Revolutionary Guard, a paramilitary force now involved in the war against the Islamic State in Syria and Iraq.
Iran's 56 million eligible voters can head to more than 63,000 polling places across the country. Iranians overseas also will vote in more than 300 locations, including 55 in the United States, where more than 1 million Iranians live. Iranian authorities said they believe the vote will exceed a 70 percent turnout.
The Associated Press contributed to this report.