Iran Economy Minister Survives Dismissal Vote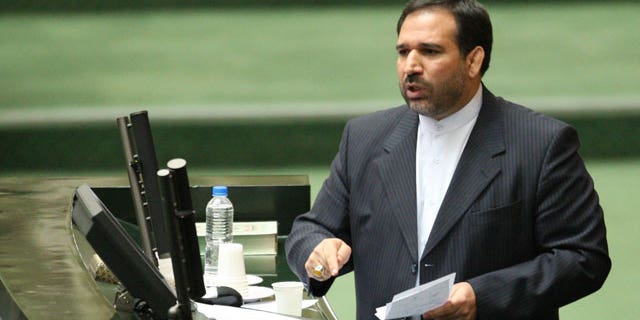 TEHRAN, Iran -- Iran's economy minister survived a vote in parliament Tuesday to dismiss him from office, after an appeal from President Mahmoud Ahmadinejad to keep his government intact to deal with international sanctions over its nuclear program.
Ahmadinejad's open conflict with Iran's powerful clerics and the parliament served as a backdrop to the vote. Its outcome indicated that his opponents may be easing their attempts to discredit him.
Lawmakers voted 141-93 against dismissing Shamseddin Hosseini, who was accused of failing to take action after learning of an alleged $2.6 billion bank fraud. Ten lawmakers abstained and 46 were absent.
Ahmadinejad said that removing Hosseini from his post would be a setback in Iran's efforts to fight international sanctions over its nuclear program.
The U.N has imposed several rounds of sanctions on Iran. There are widespread suspicions that Iran is trying to fashion nuclear weapons. Iran denies that, insisting the program is for peaceful purposes.
Ahmadinejad said Hosseini has played a key role in Iran's struggle against the sanctions, and his continuation in the post would be crucial.
"We should put the current subject aside, since the situation is sensitive," Ahmadinejad told lawmakers.
Parliament speaker Ali Larijani said that parliament would vote in Hosseini's favor after he apologized and pledged to work harder to thwart further cases of fraud. "If my apology will calm peoples' pains, I offer my apology to all people and you," Hosseini told lawmakers during the session.
Larijani's remarks indicated that Iran's leadership did not intend to put more pressure on Ahmadinejad, because of the struggle over its nuclear program.
It was also an indication that the parliament might back away from its attention to haul Ahmadinejad in for questioning. He would be the first Iranian president to be forced to appear before a parliamentary panel. At least 73 lawmakers have signed a petition to summon him, more than the required number.
Ahmadinejad has been wrestling with the parliament and the clergy over in the run-up to parliamentary elections in March 2012 and a presidential election in 2013. The conflict is largely an internal power struggle.
Ahmadinejad has come under increasing attacks in recent months from the same hard-liners who brought him to power.
Dozens of Ahmadinejad's political backers have been arrested or hounded out of the public eye by hard-line forces in recent months. His protege and top aide, Esfandiar Rahim Mashaei, has been effectively blackballed from his goal of succeeding Ahmadinejad in 2013 by a series of reputation-killing accusations.
The fraud case is just one of several economic misconduct cases that target Ahmadinejad allies, evidence that his political struggles are a factor.
The $2.6 billion fraud case involved the use of forged documents to obtain credit from at least two Iranian state banks to purchase state-owned companies.
Iranian businessman Mahafarid Amir Khosravi, also known as Amir Mansour Aria, has been accused of masterminding the scam, a scandal that broke in September.
A long report on parliament's investigation Sunday found the economy minister, his deputies and managers of the Central Bank of Iran, as well as managers of the banks involved in the fraud case, guilty of failing to take action despite having knowledge of the offenses.