Iran defeats US in Wrestling World Cup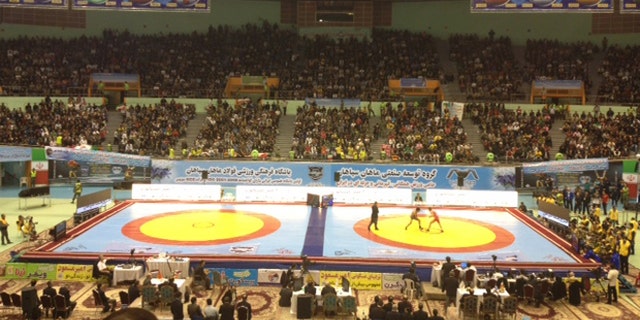 NEWYou can now listen to Fox News articles!
Iran defeated the United States in the fourth round of the Wrestling World Cup Thursday after the Iranians won six out of the seven matches in the event held in Tehran's Azadi Sport Complex, a U.S. wrestling official told FoxNews.com.
The U.S. team had defeated Georgia and Japan in previous rounds, however, only wrestler Jordan Burroughs, who is in the 163-pound weight class, was able to score a victory over his Iranian opponent Ezzatollah Akbarizarinkolaei .
The Wrestling World Cup, which changes venue each year, is an annual event that draws wrestlers from around the globe and, in some minds, offers the rare opportunity to put politics aside for sport.
Gary Abbott, the director of communication from USA Wrestling, said political views stay well off the mats.
"I have very close friends who are journalists in Iran," he said, before pointing out that the three strongest countries in wrestling are ironically the U.S., Iran and Russia, with North Korea not too far behind. "The sport breaks down barriers."
Besides recent growing tensions between countries, this year's event is noteworthy because it is the first time these teams got together after the executive committee of the International Olympic Committee recommended the exclusion of wrestling from the 25 Olympic sports.
At least in this case, Iran and the U.S. have a common adversary.
Already, the fight to keep wrestling in the Olympics has brought the US and Cuban federations into a possible alliance. But close cooperation between Iran and America would be an even more remarkable display of common cause with almost everything else driving them apart — led by an impasse over Tehran's nuclear program and Western sanctions that have upended the Iranian economy.
It's unlikely that any kind of wrestling detente would spill over into the wider issues, but it's certain to at least draw attention to the power of sports as a low-risk icebreaker going back to the historic 1971 "pingpong diplomacy" between China and the US.
"We'll be standing arm-in-arm with Iran, and we'll be standing with Russia as we will with lots of other countries," said Mitch Hull, national teams director for USA Wrestling, in an interview in Tehran with AP Television News before the World Cup Tournament. "Those (countries) really do make a difference because politically we're not always on the same page, or politically with Russia, but in wrestling, there's no doubt that we are all together in this effort and we consider Iran one of our strongest allies in the sport of wrestling."
The Associated Press contributed to this report