Indonesian Court Slashes Radical Islamic Cleric's Prison Sentence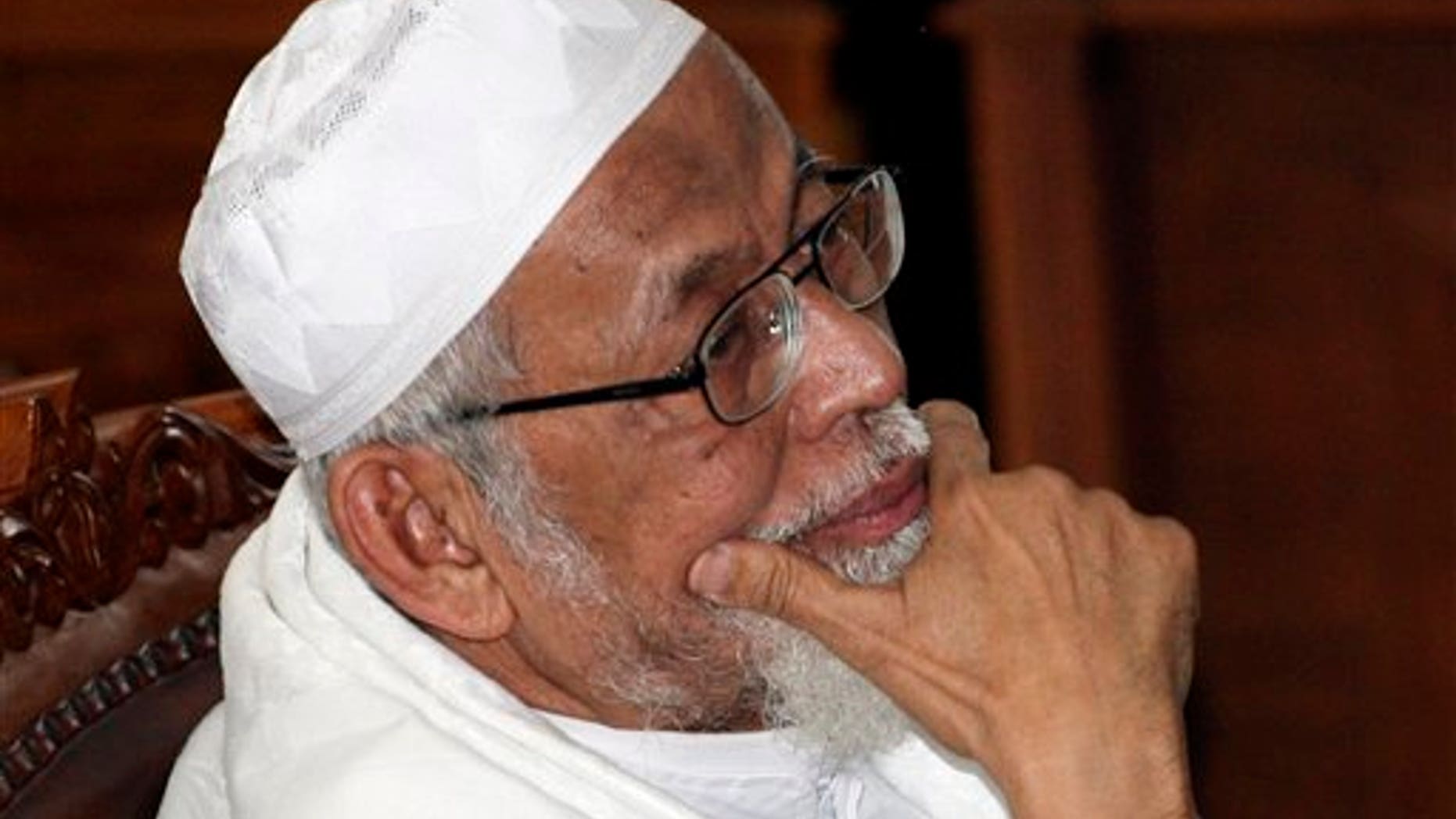 JAKARTA, Indonesia – A radical Islamic cleric accused of setting up a terror training camp in western Indonesia had his prison sentence slashed from 15 years to 9 years, an appeals court said Wednesday. No reason was given for the decision.
Abu Bakar Bashir, known as the spiritual leader of Al Qaeda-linked militants blamed for the 2002 Bali bombings, was accused of helping bring together men from almost every known Indonesian extremist group.
The jihadi training camp, which was uncovered in Aceh province last year, was allegedly planning Mumbai-styled gun attacks on foreigners in the capital, Jakarta, and assassinations of the predominantly Muslim country's moderate leaders.
In March, a district court sentenced the 72-year-old cleric to 15 years in prison for inciting terrorism, but his lawyers appealed, saying he was innocent.
The Jakarta High Court quietly handed down its ruling on Oct. 15, according to local news portal, detik.com.
"All I can say right now is that his sentence was reduced to nine years," Achmad Sobari, a court spokesman, told The Associated Press.
"I do not know exactly what factors were taking into account in the judge's decision."
Bashir's lawyer, Mohammad Mahendradatta, said he was awaiting official notification from the court.
He stressed, however, that his client should be freed.
Indonesia was thrust into the front lines of the battle against terrorism in 2002 when Jemaah Islamiyah, co-founded by Bashir, bombed two crowded nightclubs on the resort island of Bali.
Many of the 202 people killed were Australian tourists. Seven were Americans.
Bashir was arrested almost immediately after the twin blasts, but prosecutors were unable to prove a string of terrorism-related allegations, sentencing him instead to 18 months for immigration violations.
Soon after his release, he was re-arrested and sentenced to 2 1/2 years, this time for inciting the Bali blasts. That charge was overturned on appeal and he was freed in 2006.
He was rearrested last year, this time for his role in the Aceh camp.