Indigenous protesters in Brazil shoot arrows at police in response to tear gas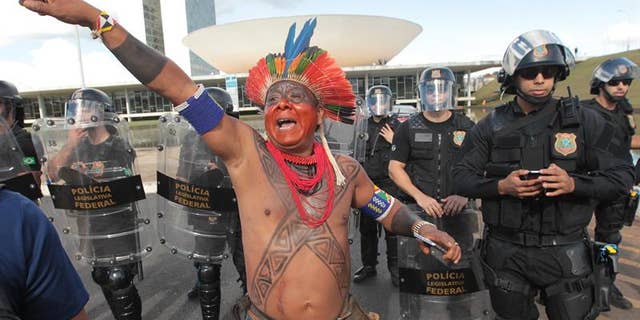 BRASILIA – Around 2,000 indigenous people from different Brazilian tribes demonstrated in the capital on Tuesday, demanding that the government speeds up the demarcation of their land.
DEFORESTATION IN BRAZIL INCREASED 30 PERCENT IN 12 MONTHS, AGENCY SAYS
Clashes with police broke out sporadically when the protesters formed small groups and attempted to enter the parliament building. The authorities managed to keep them outside.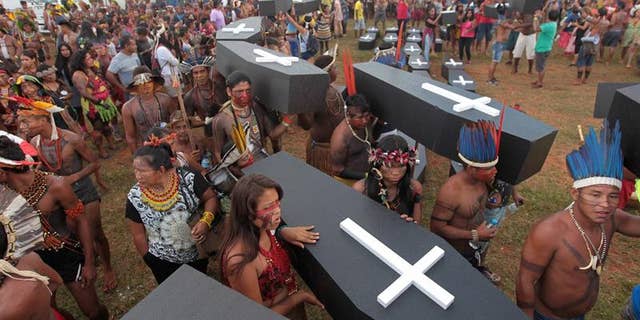 The police fired tear gas and the protesters responded by shooting arrows, some of which remained stuck in the large gardens surrounding the legislative palace.
In addition to demanding faster action in Congress regarding the demarcation of their land, the protesters expressed their rejection against a bill that introduces changes in the delimitation process of those territories.
The decisions on these lands have been made so far by the state-run National Indian Foundation (FUNAI), but if the bill is approved such responsibility will be transferred to the Congress, where according to critics there are group of lawmakers who represent particular interests.
PHOTOGRAPHER CAPTURES INCREDIBLE IMAGES OF ISOLATED AMAZON TRIBE
The indigenous people fear that Congress will end up siding with large landowners who claim ownership over some of their territories, an attempt that has often triggered violence.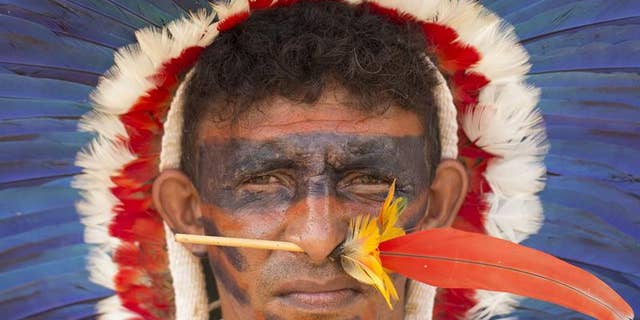 According to a recent report by the Pastoral Land Commission (CPT), a body linked to the Brazilian Episcopate, throughout last year 61 people were killed in land-related conflicts, 13 of them indigenous.
To commemorate those killed, protesters carried dozens of coffins and left them in front of the parliament building.
The demonstration took place ahead of a meeting later this week among leaders of various ethnic groups from across the country.