Indian police fire warning shots, tear gas after Kashmir post attacked; state offices burned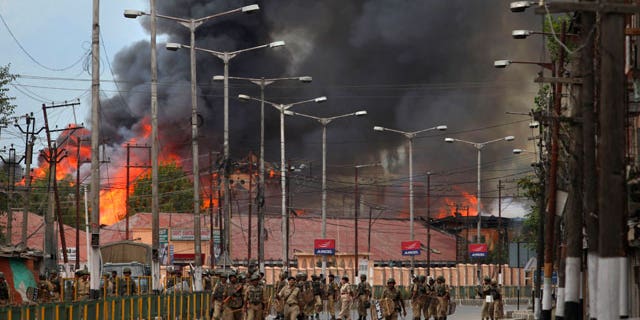 SRINAGAR, India – SRINAGAR, India (AP) — Police fired warning shots and tear gas to disperse hundreds of demonstrators who attacked a police post and burned government offices in Kashmir, as tens of thousands of people took to the streets to protest Indian rule in the Himalayan region, officials said.
At least seven civilians and six police officers were injured at the police post near the Hazrat Bal shrine on the outskirts of Srinagar, Indian-administered Kashmir's main city, after prayers Saturday, a police officer said.
Tens of thousands of people held protest marches across Indian Kashmir, the officer said on condition of anonymity because he was not authorized to talk to reporters.
Kashmiri Muslims celebrated the Eid al-Fitr festival Saturday, marking the end of the fasting month of Ramadan.
The mostly Muslim region has seen near-daily anti-government demonstrations and clashes between protesters and security forces in the past three months.
At least 69 people — mostly teenage boys and young men in their 20s — have been killed in the protests against control of the region by predominantly Hindu India.
After leading a special prayer on Saturday, separatist leader Mirwaiz Umar Farooq asked worshippers to march in Srinagar. Carrying green flags, thousands of people chanted: "We want freedom. Go India, Go Back."
Demonstrators later attacked and torched a building housing the offices of the state police and the electricity department, the police officer said.
As the building burned, clashes erupted in other areas of the city. Police fired warning shots into the air and used tear gas to disperse the protesters.
"This is the first time that an Eid congregation has been converted into a protest," police said in a statement.
Syed Ali Shah Geelani — a key leader of the All Parties Hurriyat Conference, an umbrella organization for separatist groups espousing nonviolent struggle — demanded that India accept Kashmir as a disputed territory, withdraw hundreds of thousands of troops, and release all political prisoners as a precondition for peace talks.
The Indian government did not respond to the demands.
Anti-India sentiment runs deep in Kashmir, which is divided between India and Pakistan and claimed by both. Protesters reject Indian rule and want independence or a merger with predominantly Muslim Pakistan.
The current unrest in Indian Kashmir is reminiscent of the late 1980s, when protests against New Delhi's rule sparked an armed conflict that has so far killed more than 68,000 people, mostly civilians.