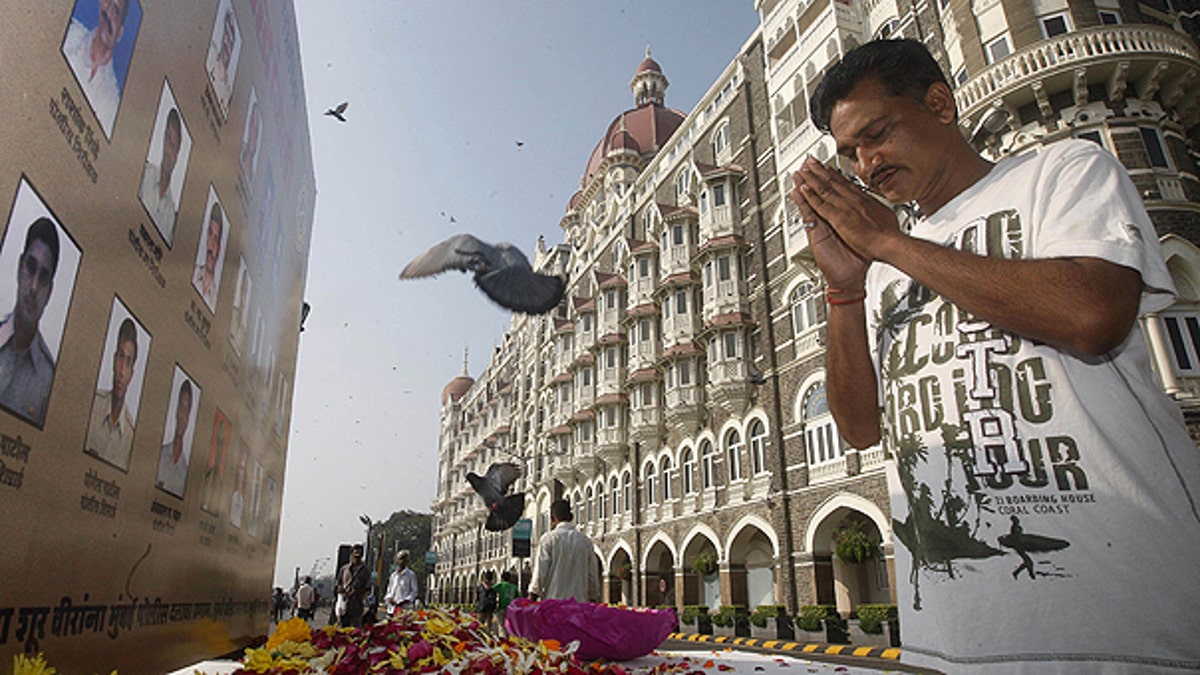 MUMBAI, India – India marked the second anniversary of the Mumbai terror attack Friday with somber ceremonies and a renewed promise to seek justice for the 166 people slain in an assault that has set back peace efforts with archrival Pakistan.
The 60-hour siege by 10 Pakistani militants, which has been called India's 9/11, paralyzed the financial capital and deeply wounded the national psyche.
The gunmen attacked ordinary commuters in a train station, targeted the rich and famous at luxury hotels, killed tourists at a popular cafe, overwhelmed the local police force and took over a Jewish center.
In a message of defiance, Prime Minister Manmohan Singh said the strength of the Indian people will conquer those threatening their way of life.
"We will never succumb to the designs of our enemies," he said. "We pledge to redouble our efforts to bring the perpetrators of this crime against humanity to justice."
The attack froze peace efforts between India and Pakistan to resolve their six-decade-old conflict. Though the nuclear-armed neighbors have haltingly renewed ties, India has refused to resume full-fledged peace talks until Pakistan prosecutes those responsible for the attack and cracks down on anti-India militant groups.
The only gunman to survive the assault, Ajmal Kasab, has been sentenced to death in India, but none of the seven alleged masterminds arrested in Pakistan has been put on trial. India repeated its demand that they be punished.
"Once again I call upon Pakistan to dismantle the terror machine operating with impunity in territories under its control and to bring all the perpetrators of the Mumbai terror attack to speedy justice," Indian External Affairs Minister S.M. Krishna said in a statement.
Officers flanked by special anti-terror vehicles marched through Mumbai on Friday morning from the Oberoi Trident Hotel, one of the attack sites.
Hundreds of students held a giant banner that read "The Great Wall of Mumbai," intending to show how the city remained defiant in the face of the attack.
Government ministers laid wreaths in a commemoration ceremony, while the father of a paramilitary officer slain in the attacks embarked on a bike ride from Bangalore to Mumbai to join a peace march. Families of the victims planned a candlelight vigil Friday evening.
Earlier this month, President Barack Obama stayed in one of the targeted sites, the Taj Mahal Hotel, and paid tribute to the attack victims in a speech that pledged solidarity with India against terror.