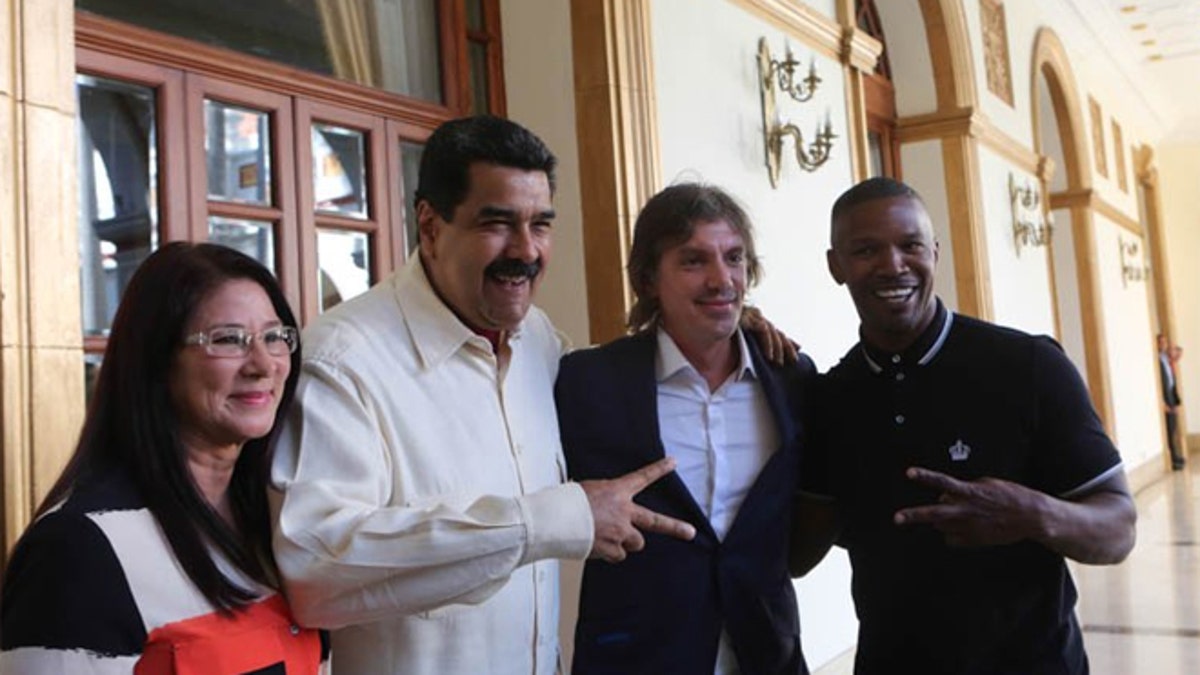 Amid widespread unrest, massive shortages of food and basic supplies and a crumbling economy, on Tuesday Venezuelan President Nicolás Maduro took the time to rub shoulders with two visiting Hollywood luminaries.
Jamie Foxx and actor/musician Lukas Haas paid a visit to the embattled head of state at the Miraflores Presidential Palace in Caracas. Maduro reportedly invited the pair so they could visit the government-funded film and TV studio, Fundación Villa del Cine, and other tourist attractions in the socialist nation.
Neither Foxx nor Haas spoke to the media during their visit, but Venezuelan media reported that the movie stars were in the country to "show support for the policies of the Bolivarian Government, in particular its social missions," and "to learn about Venezuela's Great Housing Mission," a project which has purportedly built more than a million government-funded homes.
The actors were also invited by Maduro to attend the signing of an agreement between Venezuela and Jordan, Dubai and Italy for the construction of 13,912 homes in the central state of Aragua.
"We have given a warm welcome to two actors who are very admired by our people … Thank you for supporting this project, and its vision to add housing as a benefit for the people of the world," Maduro said on state-owned VTV.
The high-profile visit didn't sit well with members of the opposition, who could only speculate as to how the pricey bill was paid — as the country's continues along in financial dire straits.
Venezuelan congressman Carlos Berrizbeitia told Fox News Latino that it would be very hard to know whether the government spent public money to make this visit possible.
"If they financed it using intermediaries it would be really hard to find out," said Berrizbeitia, a member of the National Assembly's finance committee. "They typically say that the actors pay for their trips, but we don't really know if that's true."
Berrizbeitia also speculated that the real intention for Foxx and Haas' visit to the socialist nation was to prepare a new TV production about the life of late Venezuelan strongman Hugo Chávez to compete with the Telemundo's "El Comandante," also based on Chavez's life.
Photos circulating on social media show Maduro posing for photos with Foxx and Haas, escorting them on a tour of the Miraflores palace and holding a meeting with them alongside first lady, Cilia Flores; the country's Foreign Minister Delcy Rodríguez; the governor of Aragua, Tarek El Aissami; and the Minister of the Interior, Carmen Meléndez.
"We have been chatting and in these two actors I see two extraordinary people – really, very human, very sensitive – taking part in these projects that seek the well-being of the peoples of the world," Maduro said.
The visit to Venezuela appears to be an abrupt change of face for Foxx, who two years ago was photographed alongside a group of opposition activists while holding a sign that read, "#IMYOURVOICEVENEZUELA #SOSVENEZUELA VENEZUELA."
The photo appeared on March of 2014 around the time when Venezuela was rocked by a wave of anti-government protests following the arrest and imprisonment of opposition leader Leopoldo López.
Foxx isn't the first Hollywood A-lister to visit the socialist nation – Sean Penn, Danny Glover and director Oliver Stone have all made trips to the country – but his visit comes at a time when Maduro's rule is being heavily challenged.
Franz von Bergen and Efe contributed to this report.