In Colombia presidential race, unorthodox academic in tight contest with Uribe torchbearer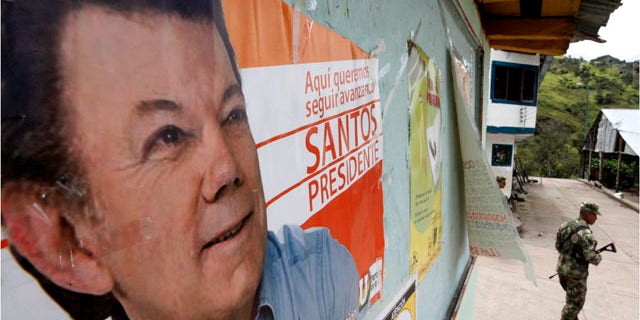 IBAGUE, Colombia – IBAGUE, Colombia (AP) — The campaign rally feels like a cross between a civics lecture and a revival meeting. The bespectacled former university rector with an Amish-style beard wields a pencil like a baton as he delivers his message: Education, not weapons, must drive change in a country wracked by violence.
"Mi profesor! Mi presidente!" comes the roar from a sea of mostly youthful Green Party supporters waving sunflowers and chanting adoration for Colombia's newest political sensation.
Antanas Mockus' unorthodox methods and colorful campaign have catapulted him from fringe status into a statistical dead heat with the former defense minister, Juan Manuel Santos, in Sunday's election for president of Colombia, Washington's top ally in South America.
The sudden rise in the polls of this political outsider — from 3 percent in March to well over 30 percent now — is giving Colombians what could be their most riveting election in decades.
A victory for Mockus, the son of Lithuanian immigrants, would make him the world's first Green Party president — though his emphasis is more on clean government than clean environment. If no candidate gets a majority, the top two vote-getters will face off in a June 20 runoff.
Mockus, 58, won plaudits as a two-time Bogota mayor by dressing up as a spandex-suited "Super Citizen" and dispatching mimes to shame traffic scofflaws. At his rallies, he stresses the sanctity of public coffers, the virtues of paying taxes — which he says he'd raise. He directly addresses drug traffickers: The easy money isn't worth an abbreviated life.
"Our campaign is the freshest, most improvised and creative ever," the mathematician tells supporters in Ibague, which like most Colombian provincial capitals has long been controlled by machine politics.
Santos follows a more traditional, timeworn electoral script.
A Cabinet minister in three administrations who is also 58, Santos is running for elected office for the first time and stresses his close association with Alvaro Uribe, the popular, termed-out president who leaves office Aug. 7.
As Uribe's defense chief from 2006-2009, Santos helped knock the wind out of the leftist Revolutionary Armed Forces of Colombia, or FARC, Latin America's last remaining rebel army. For that, Santos is deeply appreciated along the Caribbean coast, where ranchers and banana and African palm growers feted him last week.
Before Uribe's election in 2002, the FARC routinely kidnapped people at roadblocks in the region, marching their victims into the hills while dispatching relatives for ransom. The highways are safe now.
In Aracataca, childhood home of Nobel Prize-winning novelist Gabriel Garcia Marquez, Santos kissed women on the cheek, wrapped his arms around men for group photos and was serenaded by an 8-year-old siren named Salome.
"With me you can sleep peacefully," Santos assured them.
Campaign backers bused in some 100 people for a nearby rally, feeding them a free lunch. Rosa Elena Delgado, a 55-year-old cook in Aracataca, said the region's long tradition of vote-buying wasn't going to end anytime soon.
"People need that sack of cement," she said. "No one is going to do away with that."
Mockus says he would like to.
"I came because I wanted to. Nobody paid me," is among the chants he employs to whip up the faithful at rallies.
The pro-Mockus "Green Wave" has been surging ever since Santos' Unity Party — the strongest in Uribe's governing coalition — won the most seats in March 14 congressional elections.
Though Uribe's approval rating still hovers around 70 percent, his legacy is threatened by a raft of scandals: Prosecutors say soldiers killed more than 1,000 innocent civilians during his tenure, while Uribe advisers allegedly ordered illegal spying on judges, journalists and human rights workers. And well-heeled Uribe backers received millions of dollars in irrigation subsidies intended to help needy farmers.
Santos' campaign chief, Carlos Rodado, says Santos inherited the bad with the good from Uribe, and the "anti-Uribe sentiment has been incarnated in Antanas Mockus."
Leonardo Cruz, a 40-year-old businessman who drove four hours to see Mockus in Ibague, said he was drawn by Mockus' "new vision, of placing a value on life, eliminating politics as usual."
Opponents call Mockus erratic, indecisive and ill-prepared to manage a country at war even though he, too, promises to be firm with the FARC.
Mockus recently told an interviewer he thought Colombia should follow the Costa Rican model and dissolve its military. Backtracking later, he said he wasn't actually proposing dismantling Colombia's armed forces, still locked in a war with the FARC, which issued a communique Thursday calling on Colombians to boycott the vote.
In another gaffe, Mockus said he'd follow the constitutional requirement to extradite Uribe if a court in Ecuador were to convict the outgoing president in the unauthorized 2008 cross-border raid in which Colombia killed the FARC's No. 2 leader. In fact, as president, Mockus would be able to deny extradition requests.
The gaps in Mockus' knowledge apparently don't bother too many of his supporters, many of them first-time voters.
Enrique Penalosa, one of two former Bogota mayors working on Mockus' campaign, notes that not a single sitting member of Colombia's congress has endorsed Mockus: "This is, quite plainly, a citizen's movement that is essentially confronting the entire traditional political establishment."