In case you missed it: Obama signed a tie after his State of the Union address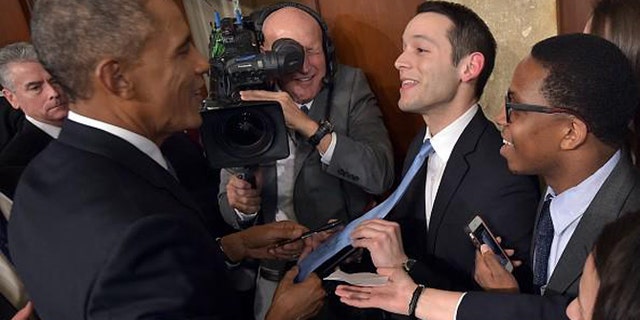 NEWYou can now listen to Fox News articles!
Politicians and guests line the House chamber for a chance to shake the President's hand after every State of the Union. But this time one guy got that and more.
Alejandro Renteria didn't have any paper handy after Obama's speech, according to Roll Call's 'Heard on the Hill' blog, so he did the next best thing and offered up his blue tie.
"You don't want me to do that," Renteria recalled the president said, to which he replied,"Yes, I do, Mr. President."
@brianstelter not a page, but an honor to meet President @BarackObama! #SOTU @CNNPolitics pic.twitter.com/8p9ClDojVX
Renteria, a legislative correspondent in the office of Senate Minority Leader Harry Reid, D-Nev., described Obama as a "role model" and said "it was an honor just to meet the president."
The exchange was caught on national TV, including the Fox News Channel.
"One camera angle blocked my face … so people were texting me, 'Hey, did you see that random guy getting his tie signed?'" he told HOH.
Bottom line, Renteria is still gushing about the big moment.
"It was one of the greatest honors to meet President Obama and a very special moment that I will never forget," he told Buzzfeed.