Impeachment of Brazil's Rousseff back on track after House speaker reverses annulment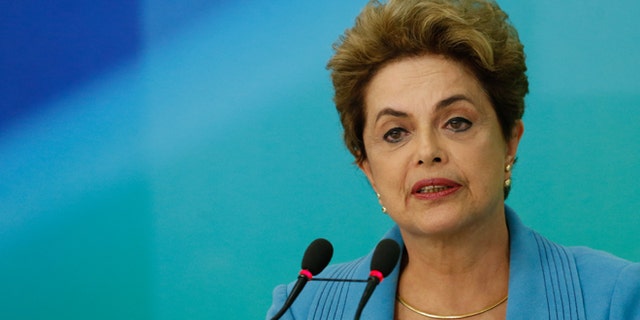 NEWYou can now listen to Fox News articles!
In a late night decision, less than 24 hours after annulling the House's vote to impeach Brazilian President Dilma Rousseff, acting Speaker Waldir Maranhao reversed course and has put the impeachment process back on track.
While he did not cite any reasons for his change of mind, Brazilian media reported that he had come under pressure from his center-right Progressive Party, which threatened to expel him if he did not change his stance on impeachment.
Maranhao took over the reins in the Chamber of Deputies just last week, after former Speaker Eduardo Cunha, who was the driving force behind the impeachment effort, was suspended over corruption and obstruction of justice allegations against him.
The lower house overwhelmingly voted to move forward with the impeachment process last month and it is those April 15-17 sessions that were first annulled and then reinstated by Maranhao.
The Senate is now expected to vote Wednesday whether to accept the impeachment case against Rousseff and put her on trial for allegedly breaking fiscal rules in her management of the national budget. If a simple majority of senators decides in favor, Rousseff will be suspended and Vice President Michel Temer will take over until a trial is conducted.
The impeachment proceedings come as Brazil is grappling with its worst recession in decades, a continuing corruption probe that already has ensnared top politicians and prominent businessmen, and an outbreak of the Zika virus. At the same time, the country's showcase city, Rio de Janeiro, is gearing up to host the Olympics in August.
Rousseff's once-overwhelming public support has eroded with the onslaught of bad news, with her approval ratings dipping into the single digits in recent months. While polls have suggested broad public support for her impeachment, they have also pointed to widespread worry about who might replace her.
Rousseff is battling impeachment over allegations that her government violated fiscal rules, in what critics say was a bid to artificially bolster the country's flagging economy. Rousseff has said that prior presidents used such fiscal maneuvers and that the impeachment effort amounts to a "coup" aimed at removing her and her left-leaning Workers' Party, which has governed the country for 13 years.
The Associated Press contributed to this report.
Like us on Facebook
Follow us on Twitter & Instagram