Hurricane Florence forms far out over Atlantic, poses no immediate threat to land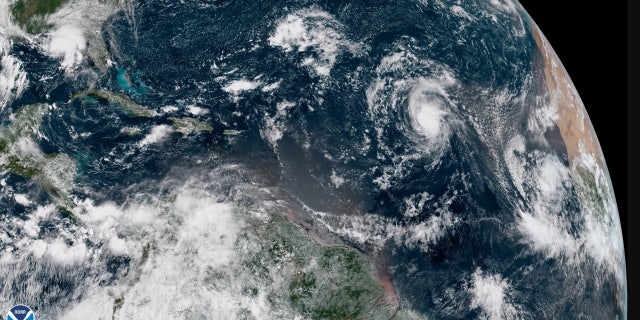 NEWYou can now listen to Fox News articles!
The third hurricane of the season formed far out over the Atlantic Ocean on Tuesday, but doesn't pose any immediate threat to land.
The National Hurricane Center said Hurricane Florence has maximum sustained winds near 75 mph and is located about 1,230 miles west-northwest of the Cabo Verde Islands. As of 11 a.m. ET, the storm was moving west-northwest at 12 mph.
"Florence is moving toward the west-northwest near 12 mph, and this motion is expected to continue through Wednesday," the NHC said. "A slower northwestward motion is forecast to begin Thursday and continue through the weekend."
A forecast track by the NHC shows the storm eventually heading into the central Atlantic by Sunday. It's too early to know if the storm will affect any land, but residents and tourists on Bermuda are asked to remain vigilant into next week.
2018 ATLANTIC HURRICANE SEASON NOW TO BE 'LESS ACTIVE' APPROACHING PEAK MONTHS, NOAA SAYS
Florence comes as residents along the Gulf Coast are preparing for Tropical Storm Gordon to make landfall late Tuesday as a minimal hurricane.
Hurricane Florence is the basin's sixth named storm of the year. Last month, the National Oceanic and Atmospheric Administration said the Atlantic hurricane season is now expected to be "less active" as it enters its peak months due a combination of conditions in the ocean and atmosphere helping to limit storm development.
NOAA forecasters are now calling for 9 to 13 named storms with winds of 39 mph or higher, of which 4 to 7 will strengthen into hurricanes. Of those storms, there may be up to 2 major hurricanes, which are classified as Category 3, 4 and 5 with winds of 111 mph or higher.