Hungary says migration spreads terror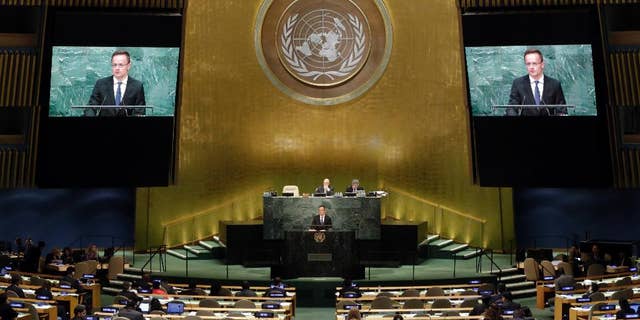 UNITED NATIONS – Migratory policies around the world have failed, leading to the spread of terrorism, Hungary's foreign minister told the U.N. General Assembly on Friday.
Peter Szijjarto said the international community must make it clear that there is no excuse for violating the borders between two peaceful countries and do its best to keep migrants and refugees as close to their home countries as possible.
"The uncontrolled and unregulated mass migration offered opportunity for terrorist organizations to send their fighters and to send their terrorists to other countries and continents," Szijjarto said.
He added that Hungary is "a Christian country" and expressed disappointment that the International Criminal Court has failed to respond to his country's requests to prosecute the Islamic State group for its persecution of Christians. He said because of the U.N.'s failure to act his country had developed a special secretariat to monitor the persecution of Christians around the world and work to help them.
Hungary will hold a referendum on Oct. 2 in which the government hopes to gather political support for its opposition to any future EU plan to resettle migrants among member states. Hungary is also challenging the EU in court, hoping to prevent having to temporarily take in 1,294 refugees.
The referendum has been criticized by rights groups for fomenting xenophobia and intolerance.
At a news conference on Thursday, Szijjarto rejected that criticism.
"International law says very clearly that the right to a safe life is a human right," Szijjarto said. "But it is not a human right to pick a country where you would like to live in."