Hungary, in latest 'Stop Soros' laws, wants to criminalize migrant helpers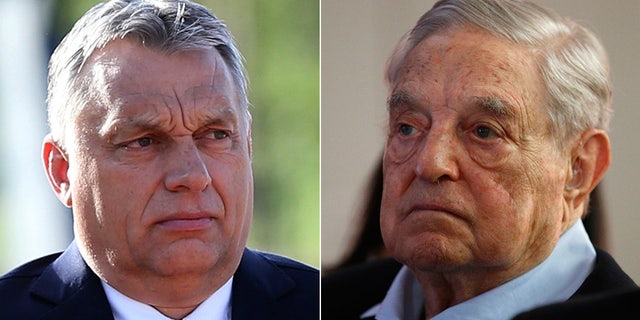 Hungary's government is ramping up its battle against billionaire George Soros by drafting new laws criminalizing those who help migrants seeking asylum.
The legislation is the latest reported measure in Prime Minister Viktor Orban's "Stop Soros" campaign following accusations that the Hungarian-born donor is trying to "create an immigrant continent."
If passed, it would make offering asylum seekers food, legal advice or printing leaflets with information a criminal offense in Hungary, the BBC reports. It added that the legislation would amend Hungary's constitution to block other European Union countries from sending asylum-seekers there.
Hungarian media is reported to have said that violators under the proposed laws would be sentenced to prison ranging from a few days to up to a year.
Hungary, already guarded by a razor-wire fence on its southern border, is among a group of EU countries that are opposing the union's plan to relocate 160,000 refugees from Eritrea and war-torn Syria to crowded migrant camps in Italy and Greece, according to the BBC.
An estimated one million asylum seekers are believed to have crossed through Hungary in 2015 to escape conflicts in the Middle East.
Soros said Tuesday that the actions of Orban, who was recently re-elected for a third term, go against the EU's values.
"Indeed the whole of Europe has been disrupted by the refugee crisis," Soros said during a speech in Paris at a European Council on Foreign Relations meeting. "Unscrupulous leaders have exploited it even in countries that have accepted hardly any refugees. In Hungary, Viktor Orban based his re-election campaign on falsely accusing me of planning to flood Europe, Hungary included, with Muslim refugees."
The comments come two weeks after Soros relocated the offices of his Open Society Foundations group to Berlin from Budapest because of what it claims is an "increasingly repressive" environment forming in Hungary. The group, on its website, says it is working to create "vibrant and tolerant democracies whose governments are accountable and open to the participation of all people."
Patrick Gaspard, its president, was quoted by the Associated Press as saying that Orban and his government have "denigrated and misrepresented our work and repressed civil society for the sake of political gain, using tactics unprecedented in the history of the European Union."
But Hungarian government spokesman Zoltan Kovacs, who dubbed legislation against the influx of migrants the "Stop Soros" campaign in January, according to Reuters, accused the group of trying to hide something.
"They don't want the public to know exactly what they are engaged in and in what way," he told the Associated Press.
"They want to create an immigrant continent and an immigrant country, but the Hungarian government and Hungarian laws are preventing them from doing so. For this reason they are fleeing abroad to avoid Hungarian law and will continue to apply pressure from there," he added.