Hundreds Protest For The Release Of Puerto Rican Nationalist Oscar Lopez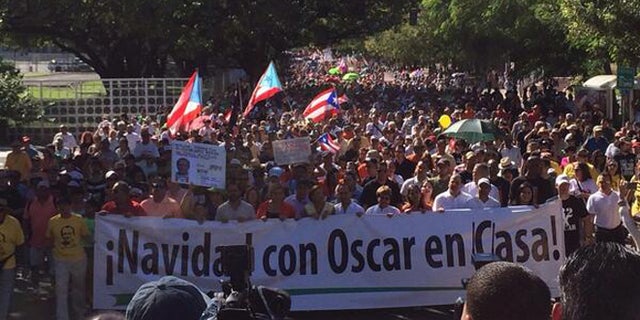 Hundreds of Puerto Ricans marched through the island's capital to Saturday to demand the release of a 70-year-old Puerto Rican nationalist who belonged to a militant group that sought independence for the U.S. territory decades ago.
Oscar Lopez is scheduled to be released from a federal prison in Indiana in June 2023. He was sentenced to 55 years in prison after a 1981 conviction on charges including seditious conspiracy, use of force to commit robbery and interstate transportation of firearms. He received another 15 years in 1988 after being convicted of conspiring to escape from prison.
Using the hashtag #FreeOscarLopez, marchers took to social media websites to chronicle the day.
"BREAKING NEWS: Tens of Thousands March in Puerto Rico Demanding @BarackObama #FreeOscarLopez" one tweet read.
Marches for Lopez also took place in New York and Washington, D.C. René Pérez, a member of the reggaeton duo Calle 13, tweeted several photos and videos in support of Lopes from Brooklyn.
In front of the White House, protestors carried signs reading, "Free Oscar Lopez," and "Libertad Oscar."
Former President Bill Clinton offered him clemency in 1999, but he didn't sign the deal in part because it did not include two comrades who have since been released.
The Associated Press contributed to this report.
Follow us on twitter.com/foxnewslatino
Like us at facebook.com/foxnewslatino