Hundreds Attend Funeral of Saudi Crown Prince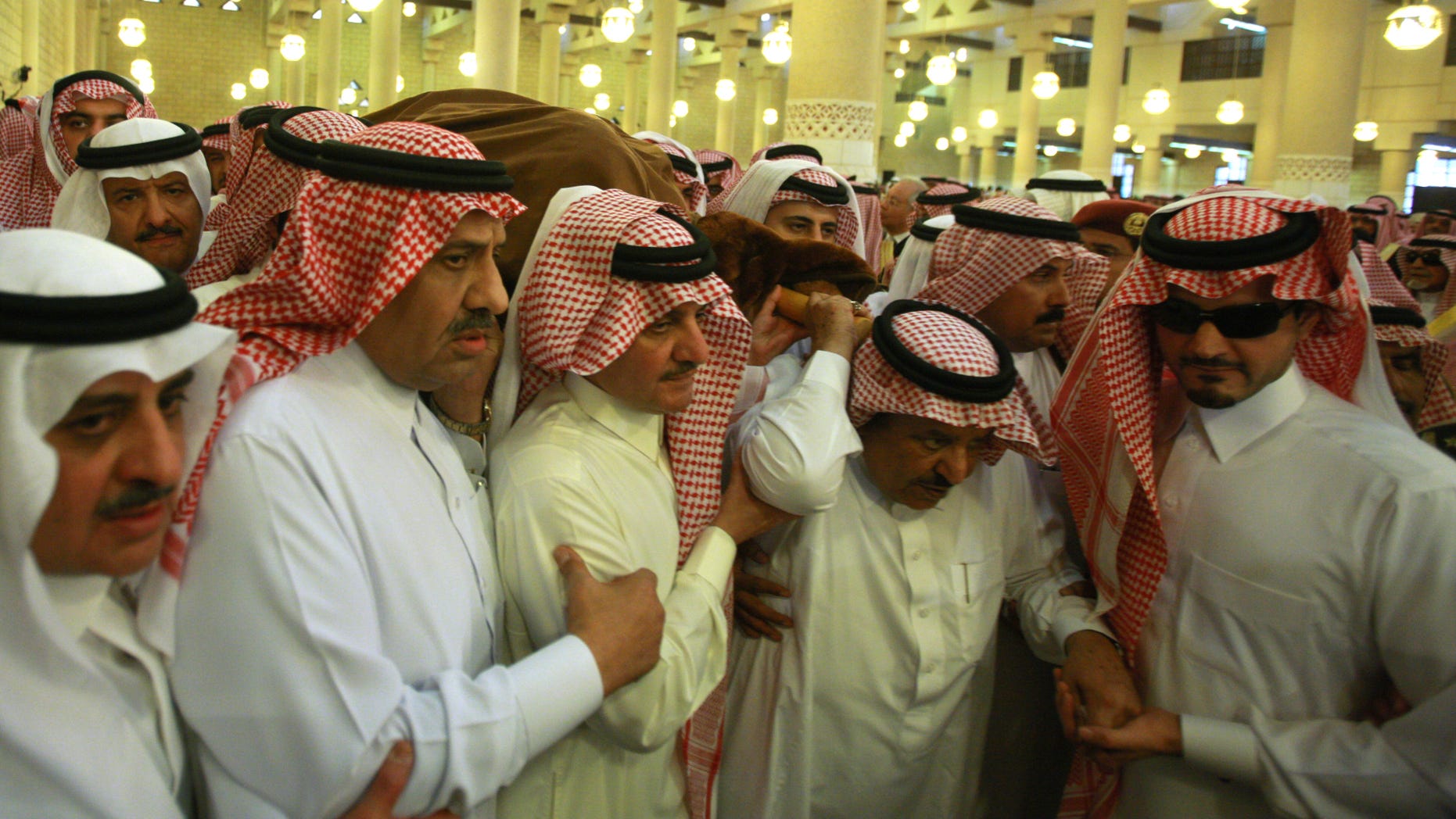 RIYADH, Saudi Arabia -- Hundreds of men in flowing white robes and red-checkered head dresses packed a mosque in the Saudi capital Tuesday for the state funeral of crown prince Sultan bin Abdul-Aziz Al Saud.
Prince Sultan died in New York Saturday at the age of 80 after an unspecified illness. He had served as defense minister since 1962 and is credited with modernizing the Saudi armed forces.
TV footage of the funeral showed Saudi King Abdullah sitting in an armchair at the front of a large crowd and wearing a surgical mask. The 87-year old monarch is recovering from his third operation to treat back problems in less than a year.
Prince Sultan, the king's half brother, was to be buried later Tuesday in Riyadh's al-Oud cemetery, resting place of many other members of the royal family.
The crown prince's death will lead to the naming of a new heir, either by Abdullah himself or by a 33-member council composed of his brothers and cousins.
The most likely choice is Interior Minister Prince Nayef, Sultan's brother.
Nayef, 78, has earned praise in the West for leading crackdowns on Islamic extremist cells in Saudi Arabia, which was home to 15 of 19 of the Sept. 11 hijackers. But he was also harshly criticized for a 2002 interview in which he said that "Zionists" -- a reference to Jews -- benefited from the 9-11 attacks because it turned world opinion against Islam and Arabs.
He has also opposed some of Abdullah's moves for more openness in the strictly conservative society, saying in 2009 that he saw no need for women to vote or participate in politics. Still, he is seen as unlikely that if he became king, he would cancel Abdullah's reforms, which include the opening of a coed university in 2009 where both genders can mix, though many religious authorities forbid any mixing of the sexes.
Some believe Nayef would put any further changes on hold if he takes power.
There is thought to be little chance that the changeover at the top of Saudi Arabia's leadership would affect the country's close relations with the United States.
The announcement of Prince Sultan's death Saturday did not disclose his illness. According to a leaked U.S. diplomatic cable from January 2010, Sultan had been receiving treatment for colon cancer since 2009.
Sultan was the kingdom's defense minister in 1990 when U.S. forces deployed in Saudi Arabia to defend it against Iraqi forces that had overrun Kuwait. His son, Prince Khaled, served as the top Arab commander in the 1991 operation Desert Storm, in which U.S.-led troops drove the Iraqis out of Kuwait.
As defense minister, Sultan closed multibillion-dollar deals to establish the modern Saudi armed forces, including land, air, naval and air defense forces. On more than one occasion, the deals implicated several of his sons in alleged corruption scandals -- charges they have denied.
Sultan is survived by 32 children from multiple wives. They include Bandar, the former ambassador to the United States who now heads the National Security Council, and Khaled, Sultan's assistant in the Defense Ministry.