Houthi rebels' rocket attack on Saudi Arabia kills 1 as Yemen war hits year three
The Saudi-Iranian proxy war in Yemen entered its third, bloody year last week, an infamous anniversary that quickly gave way to a ballistic missile blitz of Saudi Arabia's capital city by the Iran-backed Houthi rebels -- an act that threatened to further ratchet up already boiling regional tensions.
Saudi's military said it intercepted seven ballistic missiles Sunday night using the U.S.-made MIM-104 Patriot missile defense system, but videos shared online that couldn't be independently verified show one interceptor exploding in midair and another making a strange U-turn before hitting the ground.
Three of the missiles were lobbed in the direction of the Saudi capital Riyadh and all were targeting "civilian, populated areas," the military said. One person of Egyptian descent was killed by falling debris and two other civilians were injured, officials said.
The incident comes at a tense moment in the region: a coalition of Arabic countries and the U.S. are aligned against the rebels in Yemen; Israel has said the Iran nuclear deal inked by the Obama administration must be fixed or ripped up and President Trump appears inclined to agree; Iran stands accused of providing arms to the Houthi rebels, who have held power in Yemen's capital since September 2014; and the United Nations has been hamstrung in its efforts to broker peace and provide aid in what is now a humanitarian crisis.
IRAN SAYS BOLTON PICK AS NATIONAL SECURITY ADVISER A 'MATTER OF SHAME' 
More than 9,245 people have been killed in Yemen since March 2015, and of those, at least 5,558 were civilians, according to a U.N. report. Across the country, 22 million people are in need of humanitarian aid, including more than 8.4 million who the U.N. describes as "severely food insecure." A watchdog group recently accused Iran of supplying weaponry to Houthi rebels in the form of roadside bombs disguised as rocks.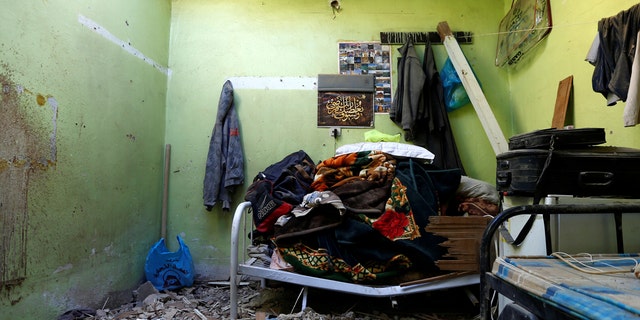 However, Iran has consistently denied supplying arms to the Houthis. Iranian Foreign Minister Mohammad Javad Zarif has derided such allegations as "fabricating evidence."
Meanwhile, an Iranian official blasted the Trump administration's elevation of John Bolton to the role of national security adviser, calling it "a matter of shame." Bolton, a former U.S. ambassador to the United Nations, has openly advocated for regime change in Iran and is against the nuclear deal.
The UAE condemned the Sunday attack, labeling the missile volley an attempt to "terrorize civilians and damage the Kingdom's infrastructure," adding in a statement that such incidents are evidence of the Iranian-backed Houthi militias intransigence and its insistence on destabilizing the region's security and stability.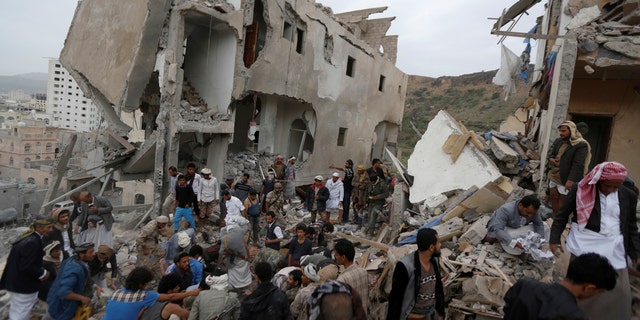 US CHARGES 9 IRANIANS IN HACKING SCHEME AGAINST HUNDREDS OF UNIVERSITIES, GOV'T AGENCIES
During his departing statement as the U.N. Special Envoy for Yemen late last month, Ismail Ould Cheikh Ahmed said that all parties involved must be prepared to make concessions in the country's national interest in order to end the war and stop the humanitarian crisis from deepening.
"Conflict has gradually destroyed the economy, healthcare services, housing, roads and schools, everything that Yemenis need in order to live and prosper," he said.
In a statement to Fox News, the U.S. State Department strongly condemned the Houthi missile attacks.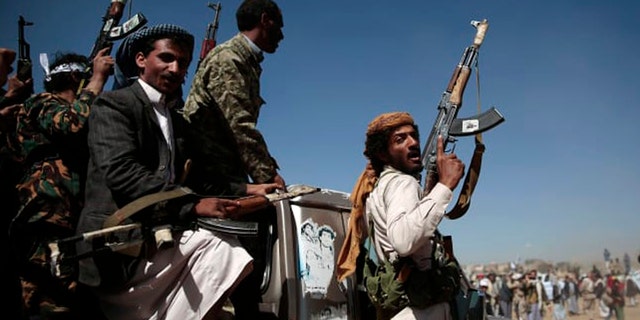 "Our condolences go out to the families of any who were killed or injured. We support the right of our Saudi partners to defend their borders against these threats," said Heather Nauert, State Department spokesperson. "We continue to call on all parties, including the Houthis, to return to political negotiations and move toward ending the war in Yemen."
"The missile attack on Saudi Arabia by the Houthis this weekend provides even more evidence that the Iranian regime is continuing its efforts to incite conflict and further destabilization in the region," United Against Nuclear Iran Chairman Joe Lieberman, the former independent Connecticut senator, reacted. "The Iranian regime's continued aggression demonstrates the urgent need to hold the regime accountable by cracking down on its illicit non-nuclear activities."
Fox News' Lucas Tomlinson contributed to this report.